Lawyers Can't Find Parents Of 545 Migrant Kids Separated By Trump Admin
by Cassandra Stone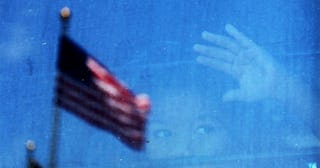 Spencer Platt/Getty
Months before Trump's "zero-tolerance" policy, hundreds of children were separated from their parents as part of a "pilot program"
After a federal judge appointed lawyers to identify migrant families who were separated by the Trump administration's immigration policies, 545 children are still separated from their parents. The lawyers haven't tracked down the parents, many of whom were deported to Central America, according to the American Civil Liberties Union.
While the Trump administration instituted its horrific "zero-tolerance" policy in 2018, these 545 children were separated from their parents in 2017 as part of a "pilot program." This means these families were separated long before the Trump administration separations became public knowledge. According to NBC News, the ACLU and other pro-bono law firms have been tasked with finding the members of families separated during the pilot program.
Initially, 1,000-1,500 parents were separated from their children under the pilot program and had already been deported before a federal judge in California ordered them to be found. In 2018, 2,800 families were separated under the zero-tolerance policy. The difference between the two groups is that most of the 2,800 families in 2018 remained in custody until the policy ended via executive order.
"It is critical to find out as much as possible about who was responsible for this horrific practice while not losing sight of the fact that hundreds of families have still not been found and remain separated," said Lee Gelernt, deputy director of the ACLU Immigrants' Rights Project. "There is so much more work to be done to find these families."
Gelernt said he doesn't know if they'll be able to locate all of the families, but that they "will not stop looking" until they're found. "The tragic reality is that hundreds of parents were deported to Central America without their children, who remain here with foster families or distant relatives," he said.
Under the secret pilot program in 2017, the U.S. Department of Homeland Security officials recorded incomplete and often inaccurate data, according to the Washington Post. After the judge ordered the Trump administration to hand over their Excel sheets in 2018, the records were outdated, and locating parents became even more difficult.
So far, the parents of 485 children have been contacted by lawyers, according to the court filing. But some are missing, Gelernt tells the Post, and others are in hiding. Of the parents of the 545 separated children still separated from parents, lawyers expect 75 will be reachable by phone. Another 187 have been found but not reached successfully, and 283 have not been found entirely. Some parents have elected to keep their children in the U.S., out of "fear of what will happen to their child if they return" to their home countries. Which is likely why they were seeking a new life and asylum in the U.S. in the first place.
The separation of immigrant families is, at its core, inhumane cruelty for cruelty's sake. It is one of many disastrous hallmarks of a fascist presidency and the resurgence of concentration camps and genocidal practices are already a lasting part of the Trump regime's legacy. And, most importantly, these separations continue every day. They did not stop just because this administration unfurls a new humanitarian crisis on a daily basis. Families are being separated at the border and within their own communities to this day, regularly, and without an end in sight.
"When we will find these parents is impossible to know," Gelernt said, per the Post, "but we will not stop until we find every last family."