6 Celebrity Moms Who Keep It Real On Social Media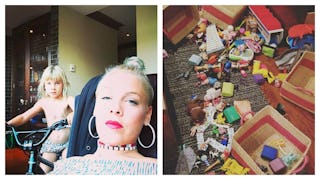 Pink: Instagram / Kristen Bell: Instagram
If you're anything like me, you follow a good handful of celebrity moms on social media. We love seeing their cute kiddos all dressed up in a perfect combo of designer and Target clothes, and how they somehow manage to be perfectly coiffed while they sip coffee by a pool.
Victoria Beckham — designer and Spice Girl — loves to share pictures of her gorgeous children (I mean, she is married to David Beckham, a total stud), and not only does she share pictures of family barbeques, she posts videos doing arts and crafts with her six-year-old daughter Harper. The woman runs a multimillion dollar fashion company, and does Elf on a Shelf? I mean, hello!
But the thing we most hope for from celebrity moms is getting a slice of what their everyday life is like. Sure, they go on international vacations and surprise trips to Disneyland, but what is the average day like for a celebrity mom? Do they struggle getting their kids ready for school in the morning? Do they have picky eaters? And most importantly, do they have as many fucking stretch marks as we do? Seeing celebrity moms keep it real on social media is refreshing, because there's no way life is always perfect, no matter how famous you are.
So here are six of the realest celebrity moms on social media right now:
Chrissy Teigen
I mean, this is a given. Chrissy is real on social media about literally everything, which is what makes her so much fun to follow. She has no trouble clapping back at the haters, and trust that there are many. She once sent a tweet to InStyle Magazine after they repeatedly shared a picture of her wearing a sweatshirt and no pants while walking the streets of New York City saying that she's pregnant and pants fucking suck. I mean, where's the lie? She also shared this tweet:
P!nk
Pink has always kept it really real, and that is a part of why we're such big fans of hers. She lets it be what it is in terms of motherhood, especially given that she had her second child, Jameson, at the end of 2016. We know working moms with two kids (she released her newest album, "Beautiful Trauma" in 2017) don't have time to make shit perfect. This Instagram post from the summer is peak mom not giving a fuck.
Giovanna Fletcher
Giovanna Fletcher is a UK celebrity, so she's not well known to American moms, but she should be. Fletcher, an author of seven books, went viral in 2016, sharing a picture of herself about a month postpartum with her second son, coupled with the comment she had received from a complete stranger about her "tummy." On a daily basis, Fletcher has no problem talking about the daily struggles of being a mom to two young boys: early wakeups, working late into the night, and generally surviving the daily shitshow.
https://www.instagram.com/p/BOnLpGFBOTI/?taken-by=mrsgifletcher
Serena Williams
New mom, and greatest tennis player of all time Serena Williams has come to use social media the same way many new moms do — to ask questions about how the fuck you get a handle on this "mom" thing. She uses her Twitter account to ask questions about breastfeeding her infant daughter, Olympia, and when the little peanut was teething, Williams turned to Instagram and Twitter, practically begging for a solution to help soothe the baby. We feel your pain, Serena. Trust.
Kristen Bell
Kristen Bell is known for being open about her struggles with being a wife and mother. On her daughter Delta's birthday, she posted a picture of herself in the middle of a long labor and ended it with the hashtag #meshpanties. Come on, we know those undies were the best part of delivery. She also posted an all-too-real photo of an absolute mess of small toys, captioning it "This is a picture of both the floor of my house and the interior of my brain." We are so right there.
Olivia Wilde
Sure, she did that hella glamorous photoshoot for Glamour where she breastfed her son in a designer gown, but Olivia Wilde keeps in real otherwise. Mom to two kids under four, she certainly has a her hands full. In a post-Christmas photo of her son Otis playing with a marble run, she included this spot on caption: "Who needs iPads? (We do. All the time. Especially on airplanes. And cars. And sometimes at restaurants. Sorry.)" Technology for the win.
Celebrity moms, they can be just like us. Sure, they usually have a litany of help that your average everyday mom doesn't have, but many of them make a genuine effort to be as hands-on with their kids as they can, whether that means pumping breastmilk or nursing while backstage at a concert, admitting that wrapping Christmas gifts is absolute bullshit after a while, or simply just admitting that no matter what, motherhood is HARD.
In the age of social media, it's hard to find moms who are willing to let it get real when it's so much easier to slap a filter on and say everything is great. So the fact that these women, who seemingly live picture-perfect lives, let it all hang out is just the right amount of honesty we all need.
This article was originally published on