6 Reasons 'Schitt's Creek' Is Better Than Ever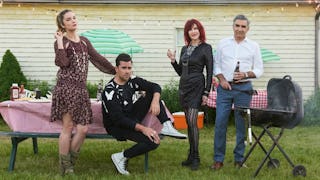 POP TV
I first fell in love with Schitt's Creek last year. With four seasons available for streaming, I jumped in and quickly binge-watched to my heart's content. In fact, not since Arrested Development or The Office had I fallen in love with a show like I did with Schitt's Creek.
When Season 4 was released, I was cautiously optimistic. Would the show still be as edgy and quirky as it was? Could it avoid becoming bland and predictable despite its popularity? And most importantly, would Dan Levy's character of David still be lick your fingers delicious?
The answer to all three of those questions is, of course, a resounding YES.
In case you haven't yet jumped on the joy ride that is Schitt's Creek, here's the gist: The show centers on the Rose family, who were forced to leave their pampered lives of luxury after their video store chain goes bust. Within the first few minutes of the first episode, nearly every possession is seized — except for a tiny town in the middle of nowhere called Schitt's Creek, which patriarch Johnny Rose (played by Eugene Levy — American Pie and Best in Show) had purchased years ago as a joke.
With nowhere to go, the family grudgingly retreats to Schitt's Creek. They move into the town's only motel and reluctantly befriend a whole host of characters ranging from cringe-worthy Roland to snarky Stevie and to, most recently, adorable Patrick.
If you aren't watching yet, GO. NOW. I'll wait. And if you are watching, you know this love that I speak of.
Here are just a few more reasons why Schitt's Creek is, well, THE SHIT. (Warning: tiny spoilers ahead. So go watch STAT!):
1. The characters show their human-side while still being true to their quirky and off-beat selves.
The cast of characters is just as unique and odd (in the best kind of way) as ever, yet their humanity is on full display in Season 4. There are unlikely friendships and unrequited love. David and Alexis are just about the best siblings on television. And Moira becomes almost maternal. All that makes for an even more lovable family of weirdos.
2. There's romance that doesn't make you roll your eyes or throw up in your mouth.
Anyone who says love is dead has clearly not been serenaded to an acoustic version of Tina Turner's "Simply the Best," like David's beau Patrick did. Excuse me while I sop up my melting heart.
3. David is more delightful than ever.
I've said it before and I'll say it again: David. Is. EVERYTHING. In fact, Team Scary Mommy is slightly obsessed with him. Oh, who are we kidding, we are totally obsessed with him. As if the facial expressions and snarkiness and the dancing weren't enough, David's sweaters are the sprinkles on the top of this delicious sundae of awesomeness. Seriously, I could eat David with a spoon. (Okay, that sounds way creepier than I mean.)
And just when I think I can't love David any more than I already do, he goes and does something like this. My heart might have melted before, but it's damn near busting out of my chest now. Just try to watch the clip below and not break out into a smile a mile wide. I dare you.
4. Alexis shows us how to be a Lady Boss with peak #FashionGoals.
Now that she is slightly less self-absorbed and showing her vulnerable side a bit more this season, we can really appreciate the Look of Alexis. Not to mention she shows us how to be a badass lady boss — while looking fabulous. We might spend most of our days in stained yoga pants, but we can still kick ass and take names while dreaming of looking like a goddess (in really nice shoes, of course).
5. Stevie and David's friendship is real AF.
What do you get when you combine two snarky, witty, acerbic one-time-lovers-turned-friends? You get the BFF duo that is Stevie and David. Should we call them Stevid? Or maybe Davevie? Nah, let's just call them perfection.
6. The snark is strong with this one.
And through it all, there's no shortage of witty comebacks and snarky clapbacks.
The show airs on POP TV, and was released on Netflix in October 2018, so you can enjoy (and re-enjoy) all four seasons. And if you don't get POP TV, you might seriously want to consider making friends with someone who does.
And to anyone who doesn't love Schitt's Creek, I'll just say this:
This article was originally published on