6 Useful Strategies For 40-Year-Olds Going Back To Work After A Break
by Laurie Ulster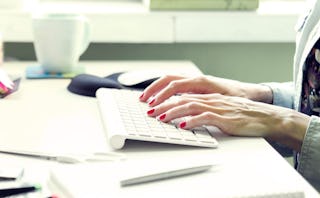 I've been out of work or working freelance for the past two years, and now I'm about to plunge back into a full-time job. I'm in my late 40s, and not quite the hotshot I used to be, so there's going to be some adjustment. And it won't just be for my kids: I have to figure out how to navigate the working world all over again. So if you're over 40, and going back to work after a break, here's my advice to make the transition successful:
1. Invest in some new clothes. You don't have to go crazy, because after the first few weeks you'll settle into the magic formula of balancing clothes you already own with the company culture, but don't walk in wearing outfits that were in style the last time you worked. I have a lot of pairs of black pants and they ALL have wide legs or are boot cut. This is not what people are wearing! I bought a pair of straight leg-almost-skinny pants, so I don't have to broadcast my age and out-of-touch fashion sense too quickly; they'll figure it out soon enough, after they learn to like me. (And no, boot cut isn't retro yet.)
2. Buy fresh makeup. If you're like me, you haven't been worrying too much about wearing makeup when you're working from home or hanging out with your kids. I use foundation and powder but I kind of gave up eye makeup unless I'm going out somewhere. So do yourself a favor and refresh anything you put on your eyes, and lipstick too if that's your thing. Start fresh.
3. Stay true to yourself. I'm not really into clothes or women's shoes, but I do have certain things that I like to wear that remind me that I'm still me, no matter what else I have on. For me, it's sneakers (which are work-friendly, since I'm going into a youth-oriented environment) and watches. I have a large collection of fun wristwatches so I got all the batteries replaced last week, just so I'd have my selection handy. Maybe it's earrings for you, or bags—it doesn't matter, as long as it's something that makes whatever you have to wear to work feel like less of a costume.
4. Have at least one full-on lazy day before you go back.
Maybe you've been freelancing, or you're taking care of the kids. Take one day to do nothing before you trade in your long days for longer ones. Don't do errands. Don't do your freelance stuff. Just chill out and watch Gilmore Girls or Game of Thrones, whatever it is that makes you happy. Eat some ice cream, or find someone attractive to feed you grapes.
5. Bring a sweater.
I sound like someone's grandmother, don't I? But in your time away from offices and workplaces, you may have forgotten that the summer norm in most places is to crank up the air conditioning so it feels like the arctic. It's especially hard on women who are dressing for summer, so come prepared.
6. Breathe.
It's all going to be fine. You did this before, remember? You can do it again.
This article was originally published on