Man Lists 7 Benefits Of Dating Single Moms And They Couldn't Be More True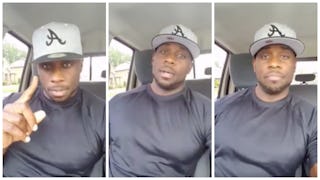 Image via Facebook
Because why stop at one?
After being challenged to name just one benefit of dating a woman with kids, a guy took to Facebook to answer. And he listed way more than one.
On his Facebook page, Derrick Jaxn describes himself as "a poet, philanthropist, and entrepreneur" who speaks to urban millennials and African Americans about issues pertaining to their daily lives." His topics range from "gender-based doubled standards to the dwindling aspirations for marriage and true love."
His latest video is about single mothers, and the ways being a mom makes them very worthwhile romantic partners. After you watch it, you might want to run out and meet a bunch of single moms, because as Jaxn proves in his glorious rebuttal, they're basically amazing.
At the start of the video, he makes it clear that he is not in any way disparaging women without kids, he's merely responding to a specific ask and delineating some of the positive qualities single moms have.
The video is barely two minutes long and quickly covers some of the things that make single moms so appealing.
Like these:
They can cook, because they're forced to, in order to feed their kids
They're financially responsible, because they're forced to prioritize their kids
They're not out clubbing or on the prowl, because they can't keep bringing randos back home
They won't judge you for having kids of your own, because hypocrite
You get to see what kind of mother she is, and what kind of mom she'll be to your kids
They're self-sufficient and self-reliant, because even if a single mom gets child support, it isn't enough, so they know how to fend for themselves
They won't bail when things get rocky, because she, and her kid, are invested in ways a woman without kids needs to be.
That all seems to check out.
The video is short and to the point and pretty darn accurate. Especially refreshing is that Derrick Jaxn hasn't gained over 1 million Facebook fans by being negative or nasty, and his page is littered with examples of positive messages for the people who visit.
If someone accosted me in public and demanded I defend something, my video would probably be littered with profanities, especially something like single moms. If there's anything lacking from his video it's a bit more indignation that single moms need defending in the first place.
Especially the part where he talks about their grind, because there aren't many people who work harder than single mothers and they deserve all the props they can get.