7 Crazy Things From The '70s That You Didn't Realize Were Crazy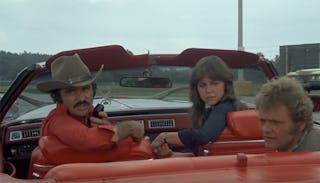 In that spirit of gained wisdom, here's a list of seven other crazy things from the '70s we grew up with that didn't seem weird at all at the time.
1. The New Scooby-Doo Movies
This TV series of Scooby-Doo cartoons was the second incarnation of Scooby-Doo, Where Are You? That alone doesn't make it weird. Sure, teenagers solving mysteries is weird in the real world, especially when you throw in a (sort-of) talking dog, but it's a cartoon, so that works. What makes The New Scooby-Doo Movies weird are the crossovers and guests appearances. Long before shows like The Simpsons and South Park made celebrity cartoons a thing, famous people both real and fictional were taking a spin in the Mystery Machine. There were episodes with The Addams Family, including the voice of the real Gomez Addams himself, John Astin. On more than one occasion, the Harlem Globetrotters stopped by. Don Knotts, Dick Van Dyke and Phyllis Diller showed up as themselves. Go back, check out Phyllis Diller's hair. Seriously.
2. The World of Sid & Marty Krofft
Sigmund and the Sea Monsters, H.R. Pufnstuf, Land of the Lost–these were trippy, far-out TV shows, but they felt like totally normal kids' stuff on a Saturday morning in the '70s. When I was a little kid, I lived in Atlanta, Georgia, which was briefly home to The World of Sid & Marty Krofft indoor amusement park. You would take the world's largest escalator to the top floor of a building downtown and enter a world just as trippy and weird as the shows themselves. There were animatronics and fun house mirrors. I remember a Banana Splits Adventure Hour-type slide. Sadly, memories are all that remain of the park. It is completely lost to history. Few pictures and almost zero video survives. It is as if it was all just a hazy dream.
3. King Tut's Sold-Out Tour
King Tut hit North America in 1976 like a One Direction and 5 Seconds of Summer joint stadium tour. For three years, the boy king made stops across the United States and Canada. People waited in line for hours and drove thousands of miles for a chance to see the treasures of Tutankhamun. Steve Martin sang about King Tut on Saturday Night Live. Over eight million people attended the exhibit. At the time, all of the hype and excitement seemed normal. I was convinced I was going to be an Egyptologist when I grew up. People were excited (at least eight million of them) about science and history and a culture other than our own. Weird, huh?
4. Coors and Smokey and the Bandit
In the original Smokey and the Bandit, Snowman, played by Jerry Reed (who also appeared as himself in a Scooby-Doo movie, of course), puts the pedal to the metal and keeps on trucking to bring an illegal shipment of Coors from Texarkana, Texas, to Georgia. It was an illegal shipment because Coors was only distributed out West, and it was Coors because it was considered one of the finest beers in the land. Take Burt Reynolds and his Trans Am out of that equation and think about all of that for a second while you're cracking open a small-batch IPA from Seattle.
5. The Streak
Occasionally, there will still be a streaker who runs across the field in a Premier League soccer game or maybe a college intramural Quidditch match (which I'm guessing will be one of those things today's college kids look back on with some bewilderment), but there was a time when streakers were a pretty common occurrence. They were so common, in fact, that there was a novelty song to immortalize the fad. Ray Stevens hit No. 1 on the Billboard Hot 100 singles chart with his fictionalized news account of a streaking. In each verse, he calls out to warn innocent Ethel: "Don't look, Ethel!" But each time, it's too late. They might still be around, but fun novelty songs like this one, or Rick Dees's "Disco Duck," or Steve Martin's "King Tut," making it to the top of the charts is a thing of the past.
6. Joe Namath for Beauty Mist
In recent history, Joe Namath's reputation has taken some hits and he, himself, has become pretty out there, but Broadway Joe was in his prime in the '70s. He hit the discos in New York City in his fur coat and never looked back. It was still early days for sports stars doing product endorsements, but even so, when Joe's gams were featured in a television spot wearing Beauty Mist pantyhose, our parents must have been shocked. But for me, all I knew then was that my mom liked Joe Namath and if my mom liked something, that was almost always good enough for me.
Speaking of pantyhose…
7. Pantyhose in an Egg
Peggy and Joan spent a lot of time talking about and wearing pantyhose on Mad Men. In the final season, their client, Topaz, is losing out to L'Eggs, the pantyhose in the little plastic egg. How many of those white plastic eggs ended up around your house? How many Easter craft projects involved Mom buying new pantyhose? Do you remember the fancy silver eggs? Those L'Eggs eggs have gone the way of the Styrofoam Quarter Pounder box and the pop-top soda can. But the real question is, when do we get to get rid of the pantyhose themselves?
This article was originally published on