7 Cyndi Lauper Videos That Make Us Proud To Be Girls
by Leigh Anderson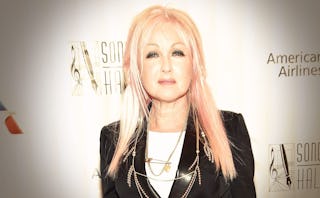 1. The 'Girls Just Want to Have Fun' video is just girls having fun. When I was a kid watching MTV, "Girls" was just a fun dance song. But check it out—Cyndi Lauper is rocking out with all her best girl pals, not a dude in sight until the final party—when the hot firefighters show up.
2. "She Bop" is about female masturbation. Long before the Divinyls hit "I Touch Myself," Cyndi went there. "They say I'd better stop or I'll go blind," indeed.
3. She has been a longtime LGBT activist. She wrote "Boy Blue" as a tribute to a friend who died of AIDS.
4. She wrote her own songs. Lauper, who got her first guitar at age 12, was a serious musician in her own right—despite the pop image. She got the title for "Time After Time" from TV Guide, after seeing a story about the 1979 sci-fi movie Time After Time. Miles Davis recorded a cover of it in 1985.
5. She was a fashion icon. Lauper's thrift-store chic was a playful counterpoint to '80s fashions, both Madonna's bustiers and cinema's shoulder pads and severe asymmetrical bobs. She wore fun clothes, apparently unconcerned with what current fashion dictated was sexy for women. Check out her bracelet here—it seems to be a basket of fruit.
6. She could roll with the punches. In this live video of "Money Changes Everything," a fan rushes the stage. Cyndi gives her a hug and keeps on singing, never missing a beat. How many rock stars would flip out and stop the show, waiting for security to remove the fan?
7. She's not stopping. In 2010 Lauper released a new album, Memphis Blues, Billboard's biggest-selling blues album of that year. She worked with blues luminaries like B.B. King, Charlie Musselwhite and Allen Toussaint, demonstrating her willingness to keep stretching herself as a musician. Here she is on Letterman singing "Early In the Morning" with Toussaint. We hope she never stops.
This article was originally published on