7 Confirmed Dead And 48 Injured In Terror Attack On London Bridge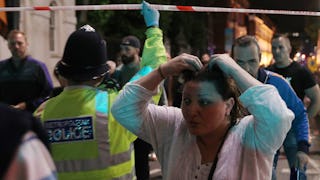 Image via Dan Kitwood/Getty Images
A van plowed into pedestrians on the London Bridge in the latest terror attack to hit England
Barely two weeks after Manchester was rocked by a deadly explosion at an Ariana Grande concert, England was again the target of terrorism when a van ran over multiple people before unleashing three men who continued the assault with hunting knives.
It was the third terrorist attack in three months for the country, following the Manchester bombing in May and the attack at Westminster Bridge in March.
According to the Washington Post, this incident closely resembled the March attack, when a driver killed four people walking the bridge across the Thames river.
Seven have been confirmed dead by the London Metropolitan Police Commissioner, and "at least 48 patients to five hospitals across London," as a result of the van hitting pedestrians and then three attackers emerging from the vehicle and stabbing people who were enjoying a night out at restaurants and bars in the immediate vicinity. The three attackers were fatally shot by officers within eight minutes of the first emergency call, Commissioner Cressida Dick said.
This latest incident comes just after the country's terrorist threat had been downgraded from "critical" to "severe," according to the New York Times, meaning a threat remained but was not considered imminent. It also occurred just a week before the national elections, which Prime Minister Theresa May, who is running for a third term, insists will proceed as planned.
"Things need to change," May said in a statement Sunday, decrying the country's tolerance for extremism. Though the three recent incidents were not connected, she described the string of violent attacks as the result of a "new trend" of terrorists "copying one another and often using the crudest means of attack."
She insists that England needs to be more forceful in fighting radical ideologies and announced plans to conduct a review of the country's counterterrorism laws in the wake of the latest tragedy.
In typical fashion, President Trump used Twitter to express his thoughts on the incident, after being briefed Saturday night.
"We need to be smart, vigilant and tough. We need the courts to give us back our rights. We need the Travel Ban as an extra level of safety!"
The Washington Post states that Trump's follow-up tweet, which came minutes later, was a result of criticism for his attempt to use the tragedy to put forth his political agenda. Regardless, his next tweet had a different tone.
"Whatever the United States can do to help out in London and the U. K., we will be there — WE ARE WITH YOU. GOD BLESS!"