7 Smart Things to Learn From a Truly Beloved Leader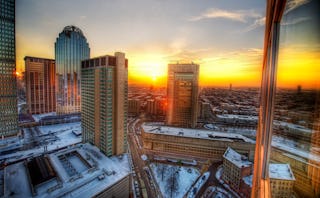 He was inelegant by his own estimation, and he didn't think of himself as particularly intelligent—a college dropout who sold insurance (before getting a degree at age 45) and who was perhaps the least-elitist mayor of any big American city in the early 21st century.
Yet it's clear that former Boston Mayor Thomas Menino, who was buried today after dying of cancer at the age of 71, was beloved.
Here's almost all you need to know in the Internet age: The comments sections of news sites that reported on his death last week—Boston.com and the New York Times, for example—contained nary a critical word about him. (Most commenters were laudatory and lamented his passing; a few suggested, at worst, that he was a great mayor but that he got too much credit for the success of a Boston renaissance of which he was only one cause.)
Menino served 10 years on the Boston city council and became mayor in 1993 after his predecessor, Ray Flynn, resigned to become ambassador to the Vatican. Over two decades in office, Menino reshaped the city and succeeded—far beyond any personal sense of his own abilities. Ultimately, however, he succeeded because he manifested seven fundamental truths of leadership.
1. Great ideas are good, but good execution is great
Let it be said: When Menino was first elected, he was dismissed as a hack and an "urban mechanic," according to the Times. He survived and ultimately thrived simply because he worked harder than everyone else, telling an interviewer that he "ran a Menino schedule, not a mayor schedule. I'd get up at 4:30 in the morning, and I didn't get home until 10 at night."
This is the number one rule of success, and yet it's a rule that so many people spend time and energy trying to avoid. If you want to be successful—as a leader, or really at just about anything—you actually have to show up and do the work. Sure, it's important to look for scalable solutions and efficiency—but in the end it's the doer, the worker, the get-stuff-done guy, who generally prevails.
"I'm not good-looking," he explained another time. "I can't speak well. I'm not smart. … [But], I'm driven."
2. When you are in charge, take charge
In an otherwise generally laudatory death announcement, the Times described Menino as having "held an iron grip on his fief…He cultivated power, rewarding friends and intimidating foes."
However, Menino seemed to do so because he recognized that the powers of any office are likely to become stronger or weaker with use or disuse, as opposed to pure personal ambition.
Fear can lead to respect—and respect, in the long term, leads to love. This is a different approach from that taken by weaker leaders, who are sometimes so worried about being liked in the short term that their performance suffers, and whose approach leads to resentment.
3. Love your people and your job
Here's the one statistic you need to know about Menino. He was mayor of Boston for 20 years, and when he declined to seek reelection in 2013 due to ill health, a study found that fully half of the city's 625,000 residents claimed to have met him in person.
At the same time, Menino is perhaps unique among big city mayors in that he never sought or seemed to covet any higher office. Even the legendary Mayor Michael Curley, who served 16 nonsequential years as Boston mayor and remains an icon in the Hub years after his death, also served as a member of Congress and as Massachusetts governor.
"They wouldn't give me an ambassadorship," Menino told an interviewer who asked a year ago whether he'd want a position like that. "Give me a break."
4. Take care of small things
Menino is credited with having helped revitalize Boston during the two decades he was mayor, but while he seemed to have a broad vision for the city, he nevertheless kept his eye on tiny, incremental issues that needed to be fixed.
He was a pothole-filling mayor who would "go to three or four coffee shops in the morning, just to find out what people are thinking."
(Ironically, he said he didn't drink coffee—although he drank cranberry juice. "But coffee shops are the best barometer of public opinion—not these poll numbers and all that stuff.")
5. Be authentic
There is no getting away from the fact that Menino spoke with poor diction—to the point that he was widely, and a little bit cruelly, nicknamed "Mumbles." When he was roasted at a dinner, they put up a video of him speaking and hung subtitles on it. At first, Menino said, the ridicule got to him. His feelings were hurt.
"It did in the beginning," he said. "But you know people said to me, 'That's what makes you real, that's why we like you.' I never changed who I am. What you see is what you get."
6. Focus on legacy
Menino was the city's first Italian-American mayor and its first mayor not of Irish descent since 1930. While he had no ambitions beyond the mayoral office, he was nevertheless focused on his legacy.
Menino's membership in an ethnic minority in the city led him to feel empathy for immigrants and outsiders. He said his success in leading a more ethnically harmonious Boston in the wake of the city's 1970s bussing riots counted as his proudest success.
"My No. 1 thing is bringing racial harmony to the city," he told the New York Times.
7. Know when to inspire
If you don't live in or particularly care about Boston (and let's face it, as much as I love that city as a native New Englander, its influence isn't as great as those who live there would like to think), you might remember Menino only from one moment—but it was a big one: the 2013 Boston Marathon bombing.
As the Boston Globe reported:
Mr. Menino's health had declined in recent years, and he was hospitalized with a broken leg three days before the bombings occurred…Checking himself out against his doctor's advice, he attended the first news conference and three days later pushed himself out of his wheelchair to stand at the pulpit and speak at an interfaith service. "We are one Boston," he said that day. "No adversity, no challenge, nothing can tear down the resilience in the heart of this city and its people."
Not bad for an "urban mechanic."
photo: flickr/stuckincustoms
This article was originally published on