7 Things We Love About Jennifer Aniston's Wedding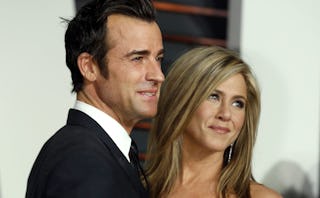 1. She got married when it was right for her. The media has painted her as a sad spinster whose hottie husband left her for a more beautiful and accomplished woman. It's clear that she took her time finding a new partner and actually tying the knot—they've been engaged for three years. She didn't let that ugly media trope of the "pitiful singleton" influence her decision. This is striking a blow on behalf of women everywhere—married or not.
2. She's in "the Mid"—46 years old!—and she's gorgeous, happy, and obviously has a full life, chock-a-block with career successes and lots of people who love her.
3. She only invited close friends to the wedding. Seventy-four people, in fact. Hollywood is all about demonstrating your proximity to power, but she kept it small and intimate.
4. The summer is saved! After a summer of breakups (Ben and Jen, Gwen and Gavin, Miss Piggy and Kermit, for crying out loud), our faith in romance is restored. People get together, they come apart, but the possibility of lifelong love is always there.
5. She tried to sneak a pastor—who was wearing, you know, a priest outfit and carrying a Bible—into the house. Which is what tipped off the paparazzi, along with someone carrying an enormous wedding cake. I love that in all of the meticulous planning (the official word was that this was a birthday party), someone forgot to tell the priest to wear something other than, you know, vestments. And to maybe stick the Bible in a ShopRite bag or something. Forgetting that kind of detail is precisely the kind of thing I'd do.
6. Her husband is younger than she is. For men, marrying someone younger is the norm, and I'm delighted that she's flipping this script, even it's only by a couple of years.
7. She's more famous than her husband. I admit, I had to Google him. And again, famous men marry not-famous women all the time, so the power imbalance shifting this way is interesting.
All photos show an unquestionably happy couple, now on their honeymoon in Bora Bora. I just have one thing to say: Could they be any cuter?
This article was originally published on