7-Year-Old Girl Taken Into Border Patrol Custody Dies Of Dehydration And Exhaustion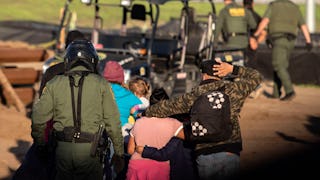 Image via GUILLERMO ARIAS/AFP/Getty Images
She was there for one night before dying of dehydration and exhaustion the following day
Last week, a seven-year-old girl from Guatemala died of dehydration and shock after being taken into Border Patrol custody last week. She was traveling with her father and a group of other migrants in the New Mexico desert after having crossed from Mexico into the United States.
CBP records state that the child and her father, whose names haven't been released, were taken into custody the night of December 6th as part of a large group — 163 migrants total, who turned themselves in to agents voluntarily.
It was over eight hours later that the young girl started having seizures. Emergency responders were summoned and when they arrived, recorded her body temperature at 105.7 degrees. CBP said in a statement that she "reportedly had not eaten or consumed water for several days."
A statement from CBP provided to the Washington Post says the child went into cardiac arrest and "was revived," but ultimately, did not survive, dying at the hospital. "However, the child did not recover and died at the hospital less than 24 hours after being transported," it read.
Her father is now waiting in El Paso to speak with Guatemalan consular officials. The Washington Post reports that water and food are usually made available to migrants in detention, but there's no information on whether the girl received anything before her seizures started.
CBP spokesman Andrew Meehan tells the Washington Post that agents "took every possible step to save the child's life under the most trying of circumstances." A statement released from the agency basically blames migrants for trying to give their kids a better life in the first place.
And this young girl is, of course, far from the only migrant to receive terrible treatment while in custody. Reports emerging from migrants in detention paint a very bleak and shameful picture.
Texas politicians including Beto O'Rourke and Joaquin Castro are asking for accountability and a full investigation into the child's death.
The ACLU spoke out and blames the child's passing on a "lack of accountability, and a culture of cruelty within CBP." Cynthia Pompa, advocacy manager for the ACLU Border Rights Center, said in a statement, "The fact that it took a week for this to come to light shows the need for transparency for CBP. We call for a rigorous investigation into how this tragedy happened and serious reforms to prevent future deaths."
The Post reports that large groups travel to borders in Texas, Arizona and New Mexico and throughout their trip, they often spend days without any food or water. There's no telling how long it had been since this child had anything to eat or drink before falling ill and dying in U.S. custody.
Under the Trump administration, the number of family groups being detained has shot up. Just this past November, CBP detained 25,172 "family unit members" on the southwest border. That number is an all-time record. For all of Trump's talk about preventing violent young men from entering the U.S., the number of families including children that are apprehended is staggering — 58 percent of those taken into custody in November were part of a family group.
An autopsy will be performed on the child, but the results could take weeks to come in. Her official cause of death was recorded as septic shock, fever and dehydration.
In America. A child died on American soil because she had no food, water, or proper medical care. This is an absolute outrage and atrocity, but sadly, just another day in Trump's America.
This article was originally published on