This 7-Year-Old With Alopecia Killed It On Her School's Crazy Hair Day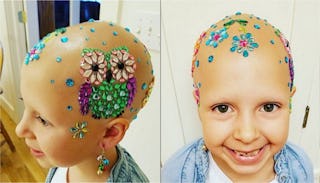 Via Daniella Wride / Instagram
Her bedazzled head is as Pinterest-worthy as any hairstyle
Seven-year-old Gianessa Wride didn't want to be left out when her school had a "crazy hair day." There was just one problem: Gianessa has alopecia, an autoimmune disease that has caused her to lose all her hair over the last few months.
She has wigs, and some moms might have styled one of those into a crazy 'do for the day, but Gianessa's mom, Daniella Wride, did so, so much better — she hit the craft aisle and created a unique and completely gorgeous look that must have been turning heads in the school hallways all day.
"It's crazy 'head' day today! I must say she looks absolutely stunning!" Daniella wrote in an Instagram post where she shared photos of her daughter's bedazzled head.
Daniella has been documenting Gianessa's battle with alopecia since she was diagnosed with the condition earlier this year.
"There is no cure or medication she can take," she wrote on Instagram alongside a photo of Gianessa sporting a big, toothy grin. "They can do pill steroids, but once she stops taking them the hair falls out again. Also, they can do steroid injections into the scalp. Neither of these options sits well with Tyler and I so for now we will embrace her new fabulous look."
Daniella continued, "She is still her beautiful, sassy, smart, loving, kind self. And I'm excited to embrace this and have fun trying new things with her. This girl is fierce and brave, way more so than I could have ever imagined. I love her more than anything."
And through it all, Gianessa has stayed positive and confidently rocked headscarves, wigs and even a bald head.
"You have to teach your kids, life isn't fair, you have to be able to adapt and change and make it your own," Daniella told her local TV news station, KUTV. "Whatever you're going through, even if it it's tough, if you have alopecia, still be confident, be yourself, and bald is beautiful."
And Gianessa loved her bejeweled head look so much, she plans to recreate it and add new designs. She hopes she can inspire other kids who struggle with hair loss, and she surely will — she's already inspired us!
H/T: Essential Kids