7000 Shoes Lay On The Capitol Lawn To Show How Many Kids We've Lost To Gun Violence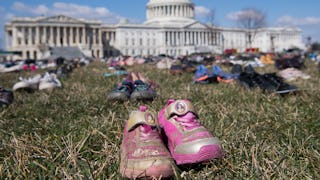 Image via SAUL LOEB/AFP/Getty Images
7,000 pairs of shoes were displayed on the Capitol lawn today to bring awareness to gun violence
After the horrific shooting at Sandy Hook Elementary School in 2012, there was reason to believe our nation would finally tighten its gun laws. When faced with the loss of 20 first graders and six of their educators, how could we not? Sadly, that wasn't enough to motivate lawmakers to take action and in the years since, we've lost thousands more children to gun violence.
7,000 children to be exact.
To represent the senseless and tragic loss of so many young lives, the global advocacy organization Avaaz collected 7,000 pairs of shoes to lay on the southeast lawn of the U.S. Capitol to show how many kids have died because of gun violence since the Sandy Hook shooting. It's a staggering number to hear, but seeing row after row of children's shoes on the ground, every pair representing a child that died by bullet, really drives home how pervasive this issue has become.
Activist Andrew Nazdin tells NBC News the shoes were collected to create the Monument for Our Kids, a memorial meant to bring awareness to the number of children dying from gun violence in the U.S.
"We want to represent everyone who's been lost," Nazdin said. "We want to bring the tragedy that's been felt in communities across the country right to Congress' doorstep."
The shoes will be displayed today from 8:30 am to 2:00 pm. "We're going to set up the shoes in rows, so you'll have the view of the Capitol in the background, and it will be like as if there is a march on the Capitol demanding gun legislation," Nazdin explains.
The shoes were collected in a two-week period and even include pairs from families of those lost to gun violence. Tom Mauser, whose son Daniel died in the shooting at Columbine High School, spoke of his journey to Washington to remember his son. "I'll be traveling to D.C. literally wearing my son Daniel's shoes, the ones he wore the day he died at Columbine," Mauser said, according to a statement from Avaaz obtained by ABC News. "I think this kind of event with shoes offers a very powerful metaphor both for how we miss the victims who once filled those shoes and also for how we see ourselves wanting to walk in their place, seeking change, so that others don't have to walk this painful journey."
Oscar Soria, an activist campaigning with Avaaz, tells ABC News, "It's amazing to see. People are just coming and taking pictures and just looking at this reflection of gun violence."
After being on display today, the shoes will all be donated to charity.
This article was originally published on