75-Year-Old Man Visits The Shelter Daily To Nap With Cats
by Valerie Williams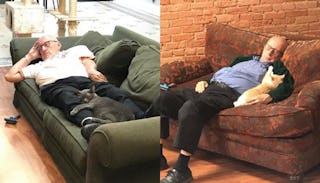 Image via Safe Haven Pet Sanctuary
He uses his time at the shelter to nap with cats — basically, he's living the dream
If you think you have life all figured out, think again. 75-year-old cat shelter volunteer Terry Lauerman could pretty much teach a master class on living your best life because he's absolutely doing it. He visits a local animal shelter every day — and naps with the kitties.
If your best life/resume skills include napping and petting cats, you too could contribute to the world the way Lauerman does — by showing up daily to snooze with shelter kitties. Now, the whole world can see this greatness because he's gone viral for it.
Green Bay, Wisconsin's Safe Haven Pet Sanctuary writes, "We are so lucky to have a human like Terry. Terry just came along one day and introduced himself. He said he'd like to brush cats. Eventually it became everyday. He brushes all of the cats, and can tell you about all of their likes and dislikes. He also accidentally falls asleep most days. We don't mind – Cats need this! Terry is a wonderful volunteer."
Um, yeah he is. Look how comfy those kitties are. Terry clearly knows what he's doing.
Elizabeth Feldhausen, the founder of Safe Haven Pet Sanctuary, tells HuffPost that Lauerman didn't officially signed up to volunteer at first. "He just walked in and started brushing," she says. "So eventually we told him he was an official volunteer and had him fill out our volunteer form."
Safe Haven dedicates its resources toward helping cats with special needs who would've been euthanized at other shelters. Feldhausen tells Scary Mommy, "We are a rescue for cats with special needs – this can range anywhere from anxiety to paralysis – that would be at risk for euthanasia. We also accept FIV cats, which is controversial, as most shelters will not. We house them in a cage-free sanctuary with furniture, and TVs, and bedrooms, so that they can feel like they're in a home."
Lauerman comes in daily and stays for about three hours, according to Feldhausen.
"He sleeps for about an hour, then he'll wake up and switch cats," she tells HuffPost.
Can we say, living the dream?
As the sanctuary mentioned in their post, Lauerman is a pro on all of the cats and their particulars. But the felines aren't the only ones benefitting from this little arrangement. "He said, [the brushing is] as great of an experience for him, as it is for them," says Feldhausen.
Feldhausen tells Scary Mommy that the shelter is amazed by the response to their post. "Terry and I do not know what to think about all the attention. He's just SO happy that his accidental nap is raising money for his loved ones, the cats." She tells us that since the post went viral, they're received around $20,000 in donations.
Sadly, she says they don't need more napping volunteers, but that's OK. Obviously, Terry has it all under control.