Only 8 States Require Teaching Consent In High School Sex Ed
by Julie Scagell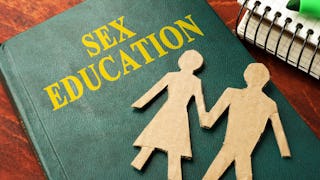 Image via Getty Images/designer491
Only 24 states actually mandate sex ed in public schools at all
Most of us sat through some kind of sex education at school. The mostly scientific (and always embarrassing) discussions were a part of the curriculum and depending on the age, various topics were covered including human development, relationships, sexual health, and baby-making. But a recent study found only 24 states actually mandate sex ed in schools and a pitiful eight states discuss consent.
Obviously, this past year's news cycle has spurred a lot of discussion about what consent means. It's astounding that we, as a society, have to actually discuss what this means as adults, but for kids it should be a critical part of their sex education. In the past week, the accusations against Supreme Court nominee Brett Kavanaugh date back to high school and remind us again why this discussion with our kids is of utmost importance.
A study conducted by the Center for American Progress, a nonpartisan policy institute, discovered that most U.S. public schools don't require sex education at all. Currently, only 24 states and the District of Columbia mandate sex education and of those, only eight states (plus the District of Columbia) require that the curriculum mention consent or sexual assault (currently only California, Hawaii, New Jersey, North Carolina, Oregon, Rhode Island, Vermont, and West Virginia).
"Adolescents receive information about sex and sexuality from a multitude of sources, including the media, school, religious organizations, family, and peers," the study's authors state. "And as the sources of sex education become even more diverse and are presented in ways that may be inconsistent, confusing, or misleading, educators must leverage these sources and align messaging to help young people determine how best to engage in positive, healthy relationships."
Not only are states not providing enough guidance as to specifically what sex education will cover, they're missing out on key conversations with kids at a very early age about what it means to give consent and how to respond it is is/is not given. Simply talking about abstinence, pregnancy, marriage, and family isn't enough.
Obviously, the conversations about consent and sexual assault are something parents should be having (early and often) with their kids. But reinforcement of this in a school setting, when kids are among their peers, is equally important. It's a message that should be delivered by parents and echoed by educators until kids become adults. School is where conversations happen and this discussion about sexuality as a whole is crucial.
And while some states have detailed plans about what will be covered in sex ed, it's clear most have a long way to go, especially when it comes to consent. "It's really important to be clear with them about what is and what isn't permissible and [what] the lines are when dealing with other people in relationships," Catherine Brown, the vice president of education policy at the institute, told CNN. "Students deserve to have age-appropriate, helpful information about how to behave in intimate relationships."
This article was originally published on