8 Things I Learned At A Bryan Adams Concert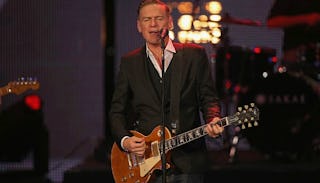 Sean Gallup / Getty Images
I've loved Bryan Adams's music since I first heard "Straight From the Heart" at a middle school dance. When his Reckless album was released in the '80s, I listened to that cassette tape with the hits "Heaven," "Somebody" and "Summer of '69" thousands of times.
I would have died to see him in concert during the '80s. While I did see the likes of Madonna, U2, Huey Lewis and the News, and other great Generation X bands of the time (thanks, Mom and Dad), I never got to see Bryan Adams live.
Thus, when his reunion tour for Reckless came to town last year (on my 21st wedding anniversary, no less) you know I was there. I bought great tickets, which, unlike in the '80s, I could now afford since I was a working adult.
My husband hired a babysitter.
I may or may not have taken a nap on the big day because I knew I would be staying up late and had to go to work the next day.
Finally, I brought earplugs because there's been a little bit of ringing lately, and I'm not sure what that's all about.
After all that, I was ready.
The concert was awesome. Educational, too. Here are a few things I learned while watching Bryan Adams in concert:
1. There is a latent teenager inside all of us, even though the outsides of us are in the 40s or beyond. I'm talking to you, fellow concert-goer wearing vintage jellies and neon bracelets while screaming her head off. You go, girl.
2. I'm not sure what's funnier: watching a minivan with a stick-figure family on its back window unload a car full of tweens for a boy band rock concert or watching a minivan with a stick-figure family on its back window unload a car full of 40- and 50-somethings for a Bryan Adams concert.
3. Even middle-aged folks like to get drunk and smoke weed.
4. Live music makes you feel alive in a way that cleaning up cat barf, doing laundry, paying bills and signing your kids' homework does not.
5. No matter what your age, you can still harbor the completely unrealistic hope that your favorite musician will notice you in the crowd, single you out, learn how much his music means to you, and develop a real friendship with you. (Yes, I said friendship. I'm not that kind of girl. Plus, Bryan Adams is waaaay shorter than me, so I never wanted to be his girlfriend, people!)
6. Big boobs still win. Bryan made a big show of trying to find the right gal to dance on camera while he sang "If Ya Wanna Be Bad, Ya Gotta Be Good." He settled on the skinniest one with the biggest boobs (duh).
7. Rock stars are like labor and delivery nurses and car salesman. What is a big deal in your life—attending a rock concert, having a baby, buying a car—is an everyday occurrence for them.
8. "Summer of '69″ is still the coolest song ever.
Attending that concert is one of my favorite memories from the past year. Now, if you'll excuse me, I have to cook dinner. My kids have hockey practice in an hour, plus there's an odor coming from the back seat of my minivan that I need to identify.
As Bryan would sing, "It isn't too hard to see we're in Heaven."
This article was originally published on