8 THINGS I LEARNED WHILE YELLING FOR THE PAST HOUR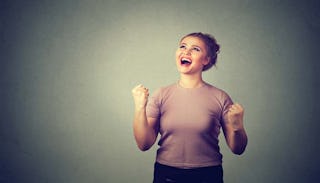 My co-worker forwarded me a nice post about a mother who whispered for a whole week and how it changed her life. I wonder if she was trying to tell me something?
Writer Vanessa Bell wonders, "How do we get to the point where our blood curdles over and we're yelling at our kids? In an attempt to understand why I yelled, I decided to stop for a week… and try whispering instead." She found that when she stopped yelling she had better focus, her kids had less tantrums, she was less distracted, more laid back and her kids seemed happier. I was going to try this today as a little test, but the universe wanted me to try something different – because just as I was about to start my experiment
THE GODDAMN GARDNER SHOWED UP WITH A LEAF BLOWER. MY MOTHER IS ALREADY PRETTY HARD OF HEARING, SO WHEN I SWEETLY ASKED IF SHE COULD FEED THE BABY LUNCH, SHE SCREAMED, "WHAT?" I TRIED AGAIN, AND SHE JUST LOOKED AT ME LIKE I WAS THE BIGGEST ASSHOLE ON THE PLANET. "ARE YOU WHISPERING? WHY ARE YOU WHISPERING?" IT WAS THEN I DECIDED TO YELL FOR AN HOUR TO SEE WHERE THAT GOT ME.
FIRST OF ALL, EVERYONE IN THE HOUSE COULD HEAR ME OVER THE ANNOYING SOUNDS OF THE LEAF BLOWER, WHICH WAS A BONUS. IT ALSO SEEMED TO GIVE MY TODDLER A BURST OF ENERGY. HE WAS FILLED WITH GLEE WHEN I SCREAMED – "HEY KID! WANNA WATCH WALLYKAZAM SO YOU CAN GET OUT OF MY HAIR AND I CAN GET SOME WORK DONE?" HE SCREAMED "YEEEESSSSSSS!"
HIS FATHER CAME TO PICK HIM UP AND I SCREAMED, "HI HONEY! HE'S HAD LUNCH AND IS PROBABLY READY FOR A NAP!" HE LOOKED AT ME LIKE I WAS HIGH – AND SUGGESTED I HAVE MORE COFFEE, WHICH WAS FUNNY. I CHUCKLED. LOUDLY. MY SON WAS GODDAMN GIDDY WHEN HE LEFT THE HOUSE. HE WAS ALSO SCREAMING, BUT NOT MY PROBLEM BECAUSE HIS FATHER IS TAKING CARE OF HIM FOR THE REST OF THE DAY WHILE I WORK.
SO HERE'S WHAT I LEARNED FROM AN HOUR OF YELLING:
1. I'M LESS ANNOYED WITH THE LEAF BLOWER. I COULD BARELY HEAR IT OVER MY OWN SCREAMS, SO WIN, WIN.
2. THE SURPRISED LOOK ON AN INFANT'S FACE WHILE YOU YELL AT EVERYONE WHILE BREASTFEEDING IS KIND OF FUNNY.
3. YELLING IS VERY ENTERTAINING FOR CHILDREN – IF YOU ARE NOT SCREAMING AT THEM, BUT WITH THEM.
4. YELLING ACTUALLY GIVES ME MORE ENERGY. IT'S KIND OF LIKE CHANTING DURING YOGA – ONLY, NO. THAT'S TOTALLY NOT THE SAME THING – WHO AM I KIDDING?
5. IT'S SERVING AS A SORT OF HYPNOSIS/REGRESSION EXERCISE. IT'S BRINGING BACK MEMORIES OF BRINGING MY VERY ANGLO CLASSMATES HOME FOR DINNERS IN MY GREEK/ITALIAN HOME AND HAVING THEM LOOK REALLY CONFUSED AS TO WHY EVERYONE WAS YELLING.
6. MY CO-WORKERS THINK EVERYTHING I MESSAGE THEM IS VERY IMPORTANT AND RESPOND IMMEDIATELY.
7. MY MOTHER IS LOOKING A LITTLE WORRIED AND MAY SHARE HER XANAX.
8. I SORT OF FEEL LIKE I'VE WORKED OUT.
This article was originally published on