8 Things Moms Would Rather Pay For Than An Ashley Madison Account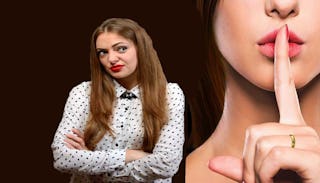 News of this Ashely Madison leak is all over, and it seems it's only going to get worse. We learned Wednesday that Josh Duggar has been using the service to cheat on his wife for years. Yesterday, a woman found out her husband was subscribed to the site on live radio. The bad news will keep coming: The hackers behind it demanded yesterday that the site's owner take it down, and when he didn't, they posted a 10 gigabyte file containing 28 million unique email addresses. Yikes.
Of all the news about the hack so far, one tidbit certainly sticks out: it's being reported that anywhere from 87- 95% of the users are male…
Duh. There are about a zillion things a woman (and especially a mom) would spend her money on before she spent it on that site. We'll start with eight…
1. Literally anything.
Seriously. Let your imagination free.
2. A quiet, undisturbed meal.
Sitting in a restaurant — kid-free — consuming whatever the hell you want at a leisurely pace (while it's still hot) sounds about 100 times more exciting than finding an anonymous stranger who wants to experiment with tantric sex.
3. A Roomba.
It's always seemed like a ridiculous waste of money, but when you put it up against thousands of dollars spent searching a site who's tagline is, "Life is short, have an affair" is seems like the most reasonable expense, ever.
4. A wine-of-the-month club.
Is there anything more exciting than having a surprise bottle of wine just show up at your front door, monthly? No. There's not. Maybe base-jumping.
5. A massage that lasts longer than two minutes with no one expecting sex at the end of it.
You can pay for someone to massage your body for over an hour without expecting a blowjob at the end of it! Way better than an affair.
6. A Bat-cave for snacks.
Look, the average price these idiots paid to be on this site was roughly $1500. Don't tell me with that kind of cash you couldn't craft a little safe room for the snacks you're never able to successfully hide from your family. It could be done.
7. Laser hair removal.
What's more intriguing – an anonymous affair, or the thought of never having to pluck a chin hair in a magnifying mirror again? I think we all know the answer to that question.
8. A divorce lawyer.
Boom.
This article was originally published on