8-Year-Old Learns To Drive On YouTube And Heads To McDonald's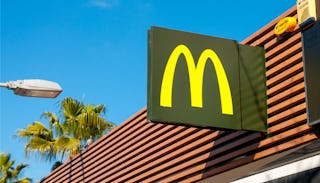 Image via Shutterstock
He brought his little sister along for the ride
Remember when you were a kid and you really wanted McDonald's but your parents wouldn't take you so you just hopped in the car and drove yourself? Wait, what? One famished kid didn't let his lack of driver's license, or general knowledge of vehicle operations stop him from realizing his dreams. He wanted a cheeseburger, dammit, and he was going to get himself a cheeseburger.
An eight-year-old boy from East Palestine, Ohio was craving a cheeseburger over the weekend and didn't want to wake his sleeping parents. (Which, in and of itself, should make this child a national hero.) Instead of moping around the house, he took matters into his own hands and looked up "how to drive a car" on YouTube.
Yep, you read that right.
"He probably looked it up for five minutes and then said it was time to go," East Palestine police officer Jacob Koehler told the Morning Journal News. That's when he did what any responsible older sibling would do–he threw his four-year-old sister in the car with him and headed off. We can only assume so he didn't take the fall for the crime alone. Because, if I'm going down for this one sis, you're going down with me. Now be quiet and there may be some nuggets in it for you.
Police were called to the McDonald's when the pair rolled up to the drive-thru window in their parents' van, news station WFMJ reported. Witnesses who saw the boy driving told police that he drove to the fast food restaurant like a seasoned professional, following all traffic laws and staying under the speed limit.
This kid taught himself how to drive from YouTube, of course he obeyed all traffic laws.
"He didn't hit a single thing on the way there. It was unreal," Koehler said. The total distance the ravenous miniature Bonnie and Clyde drove was about a mile and a half in total. McDonald's workers said they thought they were being Punk'd when the kids drove up to the drive-through to order the cheeseburger with money from his piggy bank. Where are you hiding, Ashton Kutcher? Seriously, it's not funny to put children behind the wheel of a car.
Police said the poor kid burst into tears when he found out he'd done something wrong. He did mention to officers that it was his first time behind the wheel but probably left out that he'd piloted a prop plane to Florida the weekend before because he wanted some fish tacos.
Police aren't filing charges and have said this isn't a case of parental neglect. The kids had already been fed breakfast, lunch and dinner but just "really wanted a cheeseburger." We've all been there, kid.
The siblings' efforts weren't all for naught — the nice folks at McDonald's gave the pair a cheeseburger, chicken nuggets and fries while they waited for family to arrive. It goes without saying, we're relieved the kids are safe and hope like crazy they never pull a stunt like this again.
In the meantime, someone keep an eye on this kid. He's going places. Literally.