This 8-Year-Old Dressed As Ruth Bader Ginsburg For 'Superhero Day'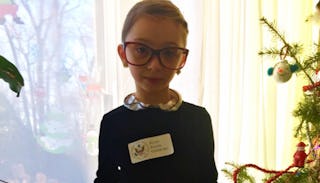 Her costume is totally perfect
Instead of dressing as a traditional character for her school's Superhero Day, one little girl did feminists proud by channeling a real-life superhero for women everywhere. She chose to go to school as the doppelganger of the second woman appointed to the United States Supreme Court.
That's right — she went as The Notorious RBG, aka, Ruth Bader (Badass) Ginsburg.
According to The Huffington Post, eight-year-old Michele Threefoot is a big fan of Justice Ginsburg and decided to pay tribute to her personal hero with a spot-on Ginsburg getup that has the internet cheering.
That face. Michele is definitely feeling the no-nonsense RBG vibe in her amazing outfit, complete with Ginsburg's signature glasses and hairdo. She's holding a copy of the children's book "I Dissent: Ruth Bader Ginsburg Makes Her Mark." Michele's mom Krista shared the photo on her own page and also, on the Pantsuit Nation Facebook page. She writes, "It's superhero day at school. Michele has been reading the heck out of "I Dissent" and decided to dress as Ruth Bader Ginsburg, because she fights prejudice and injustice."
Hell. Yes. We all need to buy this book for our daughters (and sons!) because, what better hero for a kid to have? Ginsburg, a 23-year veteran of the Supreme Court, is known for her commitment to women's issues in particular, and Krista says learning that is part of what moved Michele to want to dress as her. "The book talks a lot about the prejudices Ruth Bader Ginsburg faced as a child and about how she has worked her whole life to fight inequality in our country. Michele gets pretty passionate about unfairness, especially relating to girls and women, so the book's message really stuck with her."
Krista says that while her daughter's classmates didn't know who she was dressed as, no one teased her for the outfit. Hopefully, Michele's costume got some of them interested in finding out more about such a fascinating and important person.
Happily, Ginsburg's assistant emailed Krista for her address shortly after the post took off, as Justice Ginsburg wants to mail Michele a hand-written note. Knowing how much she means to the child already, we can only imagine how exciting it will be to receive personalized words from her hero.
Krista wrapped up her post saying, "Girls who read really are dangerous, to unfairness and outmoded inequalities."
Damn straight. And in the coming years, well-read young women who know what's fair will be more important than ever.
This article was originally published on