8-Year-Old Flips The Script On Santa In Touching Letter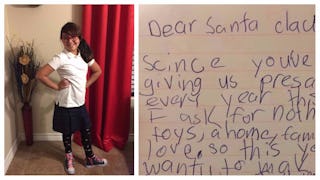 Images via Facebook/Diana Vasquez Prado
Eight-year-old's letter to Santa asking for nothing for Christmas goes viral
It's the time of year where kids write letters to Santa listing the gifts they want most. As parents we love these letters, not just because kids' scrawl is adorable, but because seeing the things they ask for helps give us a glimpse into what's going on in those tiny heads of theirs. Which is why one eight-year-old girl's letter to Santa is gaining Awwws all over the internet for its totally thoughtful and selfless intentions.
Diana Vasquez Prado's daughter Nadia wrote a letter to Santa that she sent to the North Pole via her Elf on the Shelf, Twinkle. "When I found it, my heart melted, and I cried," said Vasquez Prado of her daughter's letter. She shared it with the Facebook page Love What Matters.
"Dear Santa Claus," her adorable letter begins, " Since you've been giving us presents every year this year I ask for nothing. I have toys, a home, family and love." Most eight-year-olds are out there begging for Fingerlings or a Hatchimal. Nadia's not even a teen, but she's wise enough to know what's most important in life. Shelter, love, family — thanks Santa, she's all set.
Saying you don't want or need anything for Christmas is an amazingly mature act in and of itself, but Nadia's not done yet. Grab the tissue box and hang on. "So this year I want to make you something," she wrote. "Tell me what you want this year and I'll make it." Selfless and extremely generous. Can these parents write a how-to book please? Because they're clearly doing something right.
Vasquez Prado tells Scary Mommy her daughter thinks about others all year round, not just during the holidays. "Nadia has the best heart ever," she says. "When she was five, she cut off her waist length hair and donated it to Locks of Love. There was a year when we had to rebuy her school supplies a couple of times. When I chastised her about being careless, she told me she had given them away to some classmates who didn't have many supplies. This year, she gave all of her money to a charity fundraiser at school. She doesn't get an allowance, so it was money she had saved here and there."
This year was a particularly challenging one for Nadia, as her family grew by two when her parents adopted two older children last December. "We learned how to be a family this year, " her mother explained. But in spite of all the changes, her mom says Nadia maintained her positive attitude. "It never occurred to her that she was sharing Mom and Dad with strangers or to be jealous," says Vasquez Prado. "She is an amazing child!"
Although Nadia told Santa via her letter that she doesn't want anything for Christmas, her mom assured us that wasn't going to happen, list or no list. "She still doesn't know what exactly she wants. I even had Santa ask her when we took her to see him and she said, 'I don't know.'"
As for the letter to Santa, he responded via Twinkles with a letter of his own. He requested chocolate chip cookies, a glass of almond milk, and a drawing from Nadia of the perfect Christmas tree, all to be left for him on Christmas Eve. "She loves to draw!" her mother says.
Vasquez Prado says she and her husband have been absolutely floored by the reactions to their daughter's letter. "We didn't expect such a beautiful and positive response to our daughter's letter," she says. "We cried together at what amazing things people had to say."
Along with the image of her daughter's letter on Facebook she explained how Nadia's note helped her feel better about a question we all ask ourselves as parents — am I doing this right? "Our favorite holiday is Christmas, and I've always tried to instill the true spirit of Christmas into each of my daughters. Christmas is about love, happiness and, overall, family. There are times that we doubt ourselves as parents. There are times that we wonder if we're doing a good enough job raising good people."
I think we can all agree the answer is "yes."