8-Year-Old Senselessly Shot And Killed In Dispute Over Puppies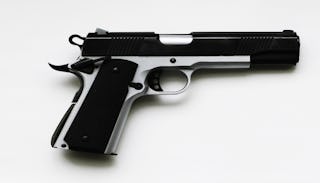 Most of us are still reeling from last week's shooting at an Oregon community college, but our country's gun violence epidemic means there's always more losses to mourn. This week, it's an eight-year-old girl who was shot and killed by another child in a dispute over puppies.
Makayla Dyer had two new puppies and was outside playing with some neighbors on Saturday night when an 11-year-old boy started talking to her through his window. He asked her if he could come see her puppies and Dyer refused. She turned around to say something to her friends but never got the words out because the 11-year-old shot her in the chest with a 12-gauge shotgun. She collapsed and he threw the gun outside next to her body.
Dyer was unresponsive at the scene and was transported to a hospital, where she was pronounced dead. The boy was taken into custody and is being held in juvenile court on first-degree murder charges. Dyer's mom, Latasha, is distraught over the horrific and senseless loss of her child. She told an ABC News affiliate, "I want her back in my arms. This is not fair. Hold and kiss your babies every night because you're not promised the next day with them."
She's right. Thanks to our inaction on gun laws, childhood is quickly becoming the most dangerous thing in America. According to the Centers for Disease Control, school and college-aged kids are killed by guns more frequently than police officers are in the line of duty. Since 1970, more Americans have died from gun violence than from all U.S. wars going back to the revolution, combined. When does it stop? When do we do something?
While opposition to any form of gun control is loud and unrelenting, the New York Times reports that polls conducted as recently as this year show the majority of people — including the majority of gun owners — support universal background checks, tighter regulations on gun sellers, safe storage requirements in homes, and a 10-year probation on gun ownership for anyone convicted of assault or domestic violence. Most of us are in favor of these things and they would save lives, so why aren't they happening?
What happened to Makayla Dyer was every parent's greatest fear, but it's made even worse by the fact that deaths like hers are preventable. We can keep weapons out of the hands of children. We can stop parents like Latasha Dyer from having to mourn their babies. We can prevent school kids needing to meet with their guidance counselors to figure out how to cope with the horrific tragedy of a friend's death.
The sheriff investigating Makayla's death said, "It's a sad, sad situation. We hope this don't [sic] ever happen again." At some point, we have to stop wishing, hoping, and praying that gun violence will stop happening, and instead start taking action. Whatever political affiliations, preference for owning weapons, or personal ideas about "freedom" we might have, none of it is as important as the thousands of innocent lives we're losing each year to guns.
This article was originally published on