These Were The '80s Fashion Must-Haves That Made Life Easier
by Christine Burke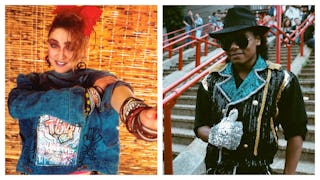 Michael Putland / Getty (left photo) Mirrorpix / Getty (right photo)
When I was 10, my dad came home from work with a bombshell: We were moving. Not only were we leaving our sleepy, suburban New Jersey town, but we were also headed to a mystical foreign land — Texas. While I had only read about the Lone Star State in my Encyclopædia Britannica books, I was eager to live in a state so far away. Also, I couldn't wait to wear cowboy boots. Did 10-year-olds wear spurs there? I wondered.
We arrived in our new Texas town a few weeks into my fifth-grade year, and as I stared back at the questioning faces of my new classmates, I realized pretty quickly that owning cowboy boots was not gonna put me in with the cool kids. Beads of sweat started to form beneath my Laura Ashley dress — I was painfully out of place in a classroom full of girls decked out in the flashiest '80s fashions.
Because 10-year-old girls can be cruel, my transition in the coming months was nothing short of excruciating. My Jersey girl fashion of one-piece jumpers with shoulder ties and tube socks had nothing on the garish, outrageous clothes from stores I'd never heard of that these Texas girls were sporting. They openly mocked my Capezio shoes (the height of cool back home), and more often than not, I came home crying hot tears of frustration because I didn't fit in. I loathed going to school every day.
My mother, an ever-practical New Englander, didn't understand my angst at first. A staunch Yankee through and through, she believed that clothing simply served a practical function: to keep from being naked in public. There was little discussion of labels, brands, or stores. But after a particularly harsh encounter with a mean fifth-grade girl, my mom relented. She realized that the culture shock was just too much for my 10-year-old self and that a little bit of retail therapy would be cheaper than actual therapy bills.
Excited and thrilled, I detailed exactly what we'd need to buy as we headed off to our local mall:
1. Guess Jeans, Acid Wash Only
In the '80s, that triangle on your right ass cheek was a symbol that you were going places. Where exactly were we headed? That iconic question mark left it to the imagination, and I had to have a pair. My 10-year-old self felt like a rock star when I got my first pair of Guess jeans.
2. A Liz Claiborne Handbag
Back then, Lady Liz had the market cornered in the handbag world, long before the likes of Prada, Kate Spade, and Mr. Vuitton. Her brightly colored purses with their easily recognized triangle logo (seriously, what was with the triangle logos?) easily contained our Love's Baby Soft perfume and Lip Smackers gloss. There was even plenty of room for Aqua Net and a brush, lest our jacked to Jesus hair start to droop.
3. Keds, The Real Ones With the Blue Label
I vividly remember my first pair of Keds. They were pristine white canvas with a blue rubber insignia on the back heel. They smelled like rubber cement as I carefully took them out of the box. I made sure my mom bought me a half size larger so as to accommodate my three pairs of layered slouch socks. And, of course, I immediately took the laces out because no one with any modicum of cool could be bothered with laces. I was crushed a few months later when one of the blue labels fell off the back of my shoe. How would anyone know I had the real thing?
4. Benetton Sweater, in Any of the United Colors
Everyone was obsessed with this Italian store and its quirky, colorful, oversized clothing. Their ads featured people of color, and walking into a Benetton store made you feel like part of something bigger. We were united by those oversized sweaters, and wearing them just felt necessary.
5. Anything From The Limited
As I dragged my mom into The Limited, with its white floors, sleek black displays, and uber-chic clothing, I could almost hear my mother's Yankee eyes rolling. But everyone was wearing crop tops and palazzo pants bearing that characteristic black label with "The Limited" emblazoned in white. The jewelry was edgy, the store pumped with techno music, and the saleswomen all looked like models. The sky was the limit in that store, and I wanted a small piece of possibility.
6. Banana Republic Safari T-Shirt
Before the Banana Republic was the sophisticated, snobbish store it is today, it resembled a Disney Animal Kingdom gift shop with its safari theme and random Jeep plopped in the middle of the store. The employees were dressed as if they were ready to hunt elephants, and you half expected Indiana Jones to jump out of the faux savannah scenes. Their white T-shirts with black and white renderings of various animals were must-haves in the '80s. Frankly, I'm really not sure what we were thinking.
Now, I feel it needs to be said that I was not taken on an all-expenses-paid shopping spree. While I was fortunate that my mom did, in fact, buy me a few items on my list, I never was the coolest kid in my class. But the Esprit jean jacket and the multicolored Swatch watch under the Christmas tree that year certainly helped raise my status.