6 Heartthrobs From The '80s Who Were Plastered To My Bedroom Walls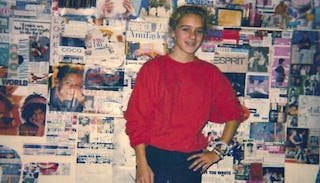 imremembering.com
In sixth grade, I was a hoarder of any and all teen magazines. Tiger Beat, Teen, Bop, 16 Magazine, Seventeen, and YM—remember those? I had more than a few copies of each lying around my bedroom floor. Thankfully, a few years down the line I graduated to the much more sophisticated Sassy (the first magazine I had a subscription to!). But before that, it was all about the teeny-bopper magazines.
I was mildly interested in '80s boy heartthrobs. And by "mildly interested," I mean my bedroom was covered wall to wall with their brooding, pucker-lipped faces. I would spend hours leafing through my magazines, then I'd carefully cut them out (or frantically rip them out, depending on my mood).
I am woefully embarrassed to admit all this, but I'm old enough now to poke fun at myself. And I'm pretty sure I wasn't the only one who'd put on lipstick, kiss the pics, and generally act like a preteen, hormonal fool.
Here were my favorite cuties, ranked in order of how deeply they pulled at my heartstrings:
1. Michael J. Fox
Oh, he was my fave. A child of hippie parents, I could relate to Alex P. Keaton's plight (though I always remained true to my parents' leftist politics). I loved Michael J. Fox's short, spunky self, and his crystal-blue eyes.
2. River Phoenix
River was another child of hippie parents (though he didn't just play one on TV; he lived it). I imagined he drank soy milk just like me and was prohibited from eating anything with artificial colors, flavors, or nitrates. Oh, but he was just terribly gorgeous. A beautiful kid, inside and out, who was taken from the world way before his time was up.
3. Michael Jackson
I liked Michael the most during his Thriller years. He had that shy, squeaky voice and small stature, but everything else about him was totally over-the-top amazing. He was otherworldly, really. But then when you heard him talk, you could almost see him as a regular kid. So endearing and sweet.
4. Rob Lowe
Before the scandals that kind of killed his image in the late '80s, Rob Lowe was the ultimate pretty boy—and with a rockin' body to boot. He was my favorite member of The Brat Pack (in close competition with Andrew McCarthy: see No. 6). I could stare at his gorgeousness all day—and I did!
6. Christian Slater
Christian Slater was my bad-boy crush (all girls have one). I fell for him hard in Heathers. He could play the ultimate evil-doer, but with a sweet side buried somewhere in there. He totally blew me away in Pump Up the Volume, where that sweetness shone through even more.
6. Andrew McCarthy
I am almost embarrassed to admit that I had Mannequin on VHS and would watch it religiously. Andrew McCarthy was just so dang cute. He was plenty preppy, which wasn't exactly my thing. But he was also totally down-to-earth. And cute too. Did I mention he was cute?
Obviously, this is an incomplete list. I could go on and on about my celebrity crushes (but at some point I'd be too embarrassed to hit "publish"). Soon after this phase, I kept my crushes much more private. And a couple years down the road, I started becoming infatuated with real live boys, who would have run the other way if they'd come into my bedroom and seen the '80s heartthrobs wallpaper.
Still, I'll always have a soft spot for these boys: my first crushes, plastered unabashedly across my bedroom walls.
This article was originally published on