'80s Makeup Trends Are Making A Comeback In A Major Way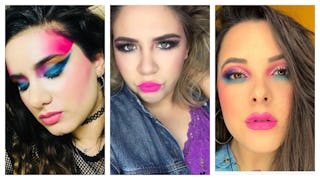 Instagram: @ni_zn13 / @yessica.portelli / @agustmarr
By now, we should all know that fashion is cyclical. Every 20-30 years, fashion trends, including clothing and makeup, seems to recycle and come back into style. These days, the '80s are making a comeback in a major way.
But here's the thing, this isn't the '80s that so many of us remember; this is a new and improved version, as it should be. And while many of the most prominent trends are worming their way back into our consciousness, they are way cooler than they were the first time around.
Those of us who lived through the '80s might wish some of these trends stayed put. No one wants to relive their awkward years, or see reminders of those embarrassing makeup mistakes parading around Instagram as fashionable. But we might just have to embrace it because the '80s are back, baby.
One of my favorite current TV obsessions, Glow on Netflix, is a delicious '80s show about women in wrestling. That's all well and good, but I'm obsessed with the hair and makeup — the bold pink lipsticks, the prominent brows, all the blue eyeshadow. It gives me life, folks.
Here are some more examples of the glorious decadence of arguably one of the best decades in pop culture history.
Blue Eyeshadow
https://www.instagram.com/p/BmbDu8PBJHa/?utm_source=ig_web_copy_link
Okay, don't freak out. This is not your momma's '80s blue eyeshadow. These blues are more saturated, more luxe. Today's blue eyeshadow isn't that same washed out old stuff. Full of rich metallics, you will want to grab up every single one you find. Blue eyeshadow is so cool now that you will want to wear nothing but. If you're still hesitant, just use it as a liner to start. Then you can gradually add more from there. You will not regret it.
Fuschia Lip
https://www.instagram.com/p/BmANlTllYAa/
Everything about '80s makeup is bold. But a bold fuschia lip also has a way of being timeless as well. If you want to make your fuschia lip look more '80s, you need to make it shine. '80s lips were all about that glossy, sumptuous, wet look.
Bold Multi-Colored Shadow
Multi-colored eyeshadow is probably the most recognizable makeup looks from the '80s. Think Lisa Bonet as Denise Huxtable here. The key to making this look modern and also retro is to trade up those washed pastels for rich, saturated colors.
Draped Blush
Draping your blush means to extend it past the cheekbones into the temples. It looks heavy handed, but that's the entire point. This is bold, brash, and in your face. If you do draped blush, you don't need to do much else in terms of makeup.
Lash-to-Lid Eyeshadow
This full wash of color across your whole lid is actually amazing if executed properly. Stay away from neutrals though; this is made for something that's going to stand out. A great shade of grapey purple, or pink, or even something like gold is perfect for this look. But keep it monochromatic.
'80s eyeliner was so sharp, it would stab you in the heart like a spiked high heel. You need a killer flick at the end of a thick, bold line. Because it's the '80s, and everything is bold.
Bold Brows
https://www.instagram.com/p/BmatDHGAVC3/?utm_source=ig_web_copy_link
If your brows managed to survive the ultra-thin trend of the '90s, then you'll be happy to embrace the fact that the strong '80s brow is making a comeback. We're talking full on Brooke Shields. Kaia Gerber (daughter of mega model Cindy Crawford) is our newest brow inspo. Step away from those tweezers ladies.
Statement Lashes
Let me make this clear: your statement shouldn't be Tammy Faye Bakker at a Maybelline convention circa 1987. Spider eyes may be visually interesting, but if you're going to go that route, make it obvious that you know how to apply eyeliner. Or, you can skip the clumpy look all together, and go for some cool colored mascara.
There are ways to make the '80s look a hell of a lot less dated than if we tried to directly recreate them. Makeup quality has improved greatly, and as a result, we now have some awesome products to make our looks that much better. So what are you waiting for? Blast some Pat Benetar and bust out your makeup case.
This article was originally published on