7 Sitcom Theme Songs From The '80s That Make Us Cry A Little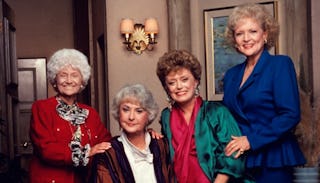 Touchstone Television
These days, most of my TV watching happens after my kids go to bed. At that hour, I prefer light entertainment, but, sadly, sitcoms as I knew them are a thing of the past. Modern-day comedies are all trying too hard to be edgy, with darker and more twisted characters than I remember from the shows of my childhood. And today's shows are way too hip to have a live studio audience, a laugh track, or even an opening theme song.
The evenings in my '80s childhood were all about prime-time sitcoms, replete with every element that feels outdated and corny to us now. I'd curl up with my family at 8 p.m. for that magic hour when my favorite shows would come on. As soon as the theme song rolled, a wave of comfort would wash over me, and I would sink deeper into the couch, excited to connect again with the characters on my favorite shows—characters who felt like family.
When it comes to '80s sitcoms, the theme songs were everything. To this day, if I hear the theme song from one of my favorite '80s shows, I'm likely to well up with tears, no matter where I am.
Here are some of the ones that are guaranteed to do the trick:
1. Cheers
Don't we all want to go where everybody knows our names? The Cheers' theme song is probably the most famous tear-jerker of all. Written by Gary Portnoy and Judy Hart Angelo, the music and lyrics are almost too sweet to match the feel of the show. And yet, Cheers was very much about finding true friendship and love, even if many of the characters were a little rough around the edges—but maybe that was precisely the point.
2. Taxi
The theme song for Taxi has no lyrics, but it's a gorgeous piece of music that always makes me teary. The song has a name: "Angela," and it was written and performed by Bob James from his 1978 album Touchdown. To me, the song feels exactly like the New York of the late '70s and early '80s, when the show takes place, and evokes the love and camaraderie depicted so beautifully between the characters on Taxi.
3. Who's the Boss?
"Brand New Life," the Who's the Boss? theme song (written by the creators of the show, Martin Cohan and Blake Hunter) is pretty ordinary in a way. But then the bridge sweeps you off your feet: "There were times / When I lost a dream or two / Found the trail, and at the end was you." And then you start to get all choked up, and you're ecstatic all over again that Tony found a nice home to raise his daughter in, and even though you're not sure if he and Angela should be together or not, by the end of the theme song, you're totally rooting for the two of them to finally get down to business and tie the freakin' knot already.
4. Golden Girls
"Thank you for being a friend…" Who doesn't cry every time the Golden Girls theme song comes on? I mean, the show can get a little ridiculous sometimes (and that's why we love it), but in the end, it's totally about friendship—the kind of friendships that last a lifetime. I don't know about you, but the theme song is especially a tear-jerker for me because it makes me miss my grandparents, who used to spend their winters in tropical locations like Florida.
5. Punky Brewster
The theme song, "Every Time I Turn Around," performed by Gary Portnoy, is just dripping with sticky sweetness. The songs reminds you that Punky was an orphan and was dealt some misfortunes in life ("Maybe the world is blind / And just a little unkind / Don't know"). And then the lyrics sum up the relationship between Henry and Punky—how they both needed someone and how fortuitous it was that they found each other: "You may be lonely and then / One day you're smiling again" And of course, there's Soleil Moon Frye, cute as anything, wandering around with that adorable dog. Hang on, I think I have something in my eye.
6. Laverne & Shirley
"Shlemiel, schlemazl, Hasenpfeffer Incorporated!" When I was a kid, I didn't know what on earth the opening lyrics even were, but I adored everything about the show, including the theme song. I used to watch Laverne & Shirley every day when I got home from school. These two women weren't just goofy and extremely likable—they really were all about "doin' it our way." They were about breaking rules, being authentic, and valuing friendship over everything else. Totally moving to me, looking back as a grown-up.
7. Family Ties
The Family Ties theme song, "Without Us," written by Jeff Barry and Tom Scott, is hands down the BIGGEST tear-jerker of them all. FamilyTies was about family, and the Keatons were a family that felt like my own in many ways. I adored all the characters and had a massive crush on Alex (who didn't?). The title sequence shows the characters hugging one another about a million times, and if that wasn't enough, the lyrics just get you in the gut: "What would we do, baby / Without us?" Too much, I tell you, too much.
Sure, '80s sitcoms may have lacked a certain depth. Sometimes they were even downright nonsensical and stupid. But the theme songs had a way of making you believe you were watching something with true heart and integrity or, at the very least, gave you something to sing along to. And no matter how much anyone makes fun of or critiques the sitcoms of the '80s, we will always have a special place for them in our hearts.
This article was originally published on