The 9/11 Victim Compensation Fund Will Last Forever, Thanks To Advocates Like Jon Stewart
by Madison Vanderberg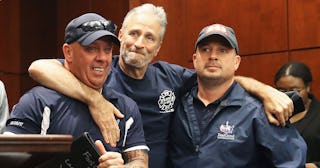 Mark Wilson/Getty
The September 11th Victim Compensation Fund will last until the year 2092 thanks to new bill
Thanks to tireless advocates like Jon Stewart and other heroic 9/11 first responders, the September 11th Victim Compensation Fund will never run out of money. On July 29, after months of pressure and lobbying, Donald Trump signed a bill ensuring the victims of the 9/11 terrorist attacks will have healthcare as long as they live.
The September 11th Victim Compensation Fund is funded by federal taxes and is used to pay for comprehensive healthcare for 9/11 first responders, many of whom have chronic health problems, cancers, and mental health issues as a result of running into burning buildings to save lives that tragic day. This fund was set to expire in 2020, and congress wanted to cut benefits by 70 percent to stretch what little funds they had left.
Last month, Jon Stewart and a number of ailing first responders testified before congress after weeks of lobbying to ensure the fund continues past 2020. It was heartbreaking to see these men and women fight so hard to obtain the healthcare that our country promised to provide to them — and that they rightfully deserve.
"As I sit here today, I can't help but think, what an incredible metaphor this room is for the entire process that getting health care and benefits for 9/11 first responders has come to," Stewart said last month to what few members of congress showed up for the hearing. "Behind me, a filled room of 9/11 first responders, and in front of me, a nearly empty Congress. Sick and dying, they brought themselves down here to speak to no one. Shameful. It's an embarrassment to the country and it is a stain on this institution. And you should be ashamed of yourselves for those that aren't here. But you won't be, because accountability doesn't appear to be something that occurs in this chamber."
Stewart's impassioned plea went viral and now we have him and the first responders that sat before congress that day to thank for this new bill.
Sadly, one of those first responders did not live to see his tireless plight play out like he hoped it would. Stewart spoke to congress alongside Luis Alvarez, a retired New York Police Department bomb squad detective, who passed away just weeks ago from 9/11-related cancer.
"That's my ultimate goal, legacy, to have this bill passed so first responders have the coverage they need," Alvarez told NBC New York last month while he was in hospice. "I can still work from my bedside, I can still put the word out."
After months of lobbying, congress finally passed the bill and the president signed it into place, but the good people of America made sure to thank the real heroes that made this happen.
Thank you to everyone who testified, and lobbied, and trekked to D.C. — you made this happen.