9 Former Child Stars Who Are Doing Just Fine
by Leigh Anderson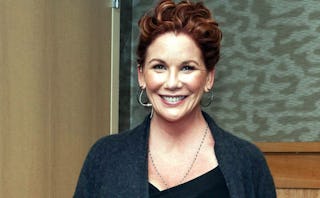 Melissa Gilbert, former star of Little House on the Prairie, is running for Congress as a Democrat in Michigan's 8th district. ABC News reports that Gilbert is "particularly attuned to issues confronting women, children and families." Now, aside from how great it is that little Laura Ingalls Wilder might have some say in politics and particularly in women's issues, this got us thinking: How are other former child stars faring? We know about the high-profile flameouts, of course, but it turns out there are plenty of former famous kids who are doing just fine, thankyouverymuch. Below, nine former child stars who are apparently leading stable, productive and happy lives.
© Tinseltown / Shutterstock.com
1. Neil Patrick Harris
I admire the former Doogie Howser, M.D., not only for his acting work but also for how steady his work has been—from How I Met Your Mother to Gone Girl to Dr. Horrible's Sing-Along Blog. He's married, has two kids and was the first openly gay man to host the Academy Awards.
© s_bukley / Shutterstock.com
2. Soleil Moon Frye
Punky Brewster stole our hearts not only for being adorable, but also for her pluck and courage as an abandoned and neglected child being raised by a foster parent. Frye has three children with her husband, a television producer, and in 2011 published the book Happy Chaos: From Punky to Parenting and My Perfectly Imperfect Adventures in Between.
© Dimitrios Kambouris/Getty Images
3. Gaby Hoffmann
Raised in New York City's Chelsea Hotel in the 1980s, Gaby Hoffman first came on my radar as the precocious little friend in Sleepless in Seattle. She's got a literature degree from Bard, a nearly 1-year-old daughter and has been outspoken about how women's bodies are portrayed on film and television.
© DFree / Shutterstock.com
4. Mayim Bialik
She's the former Blossom, went on to receive a neuroscience PhD, and is now playing a neuroscientist on The Big Bang Theory (so she's doctor, and she plays one on TV). Bialik has integrated her personal beliefs into her entertainment career seamlessly. Bialik has two sons, is an observant Jew and wrote a book on attachment parenting. She's also vocally pro-vaccination.
© Pascal Le Segretain/Getty Images
5. Emma Watson
Watson grew up in the public eye as the star of the Harry Potter movies, but has never lost her self-assurance or confidence. She's been an outspoken advocate for women's rights and in July 2014 was appointed a UN Women Goodwill Ambassador.
6. Jodie Foster
From the Coppertone girl to Taxi Driver to Silence of the Lambs, Jodie Foster has been delivering solid performances since 1965. She's married to actress and photographer Alexandra Hedison, has two sons and has a solid second-act career going as a director, starting with Little Man Tate in 1991.
7. Jason Bateman
It's rare that an actor is just as attractive as an adult as he was as a child. Bateman, the object of my affection as the mischievous friend on Silver Spoons, is now the object of my affection as the star of Arrested Development and Horrible Bosses. He's married and has two kids.
© Frazer Harrison/Getty Images
8. Sara Gilbert
Oh, I loved the show Roseanne, and I especially loved Darlene as the perpetually snarky middle child of the Connors. She's appeared on The Big Bang Theory and serves as co-host and executive producer of The Talk, a popular daytime talk show she co-created for CBS. She's married to musician Linda Perry and has three kids.
© Jason Merritt/Getty Images
9. Anna Paquin
At age 11, she became the second-youngest Oscar winner in history for her role in 1993's The Piano. She's worked steadily since then, from The Squid and the Whale to HBO's True Blood. She's married, has two kids and is an outspoken advocate for LGBT rights.
This article was originally published on