9 Life Lessons Gen Xers Learned From The Original MTV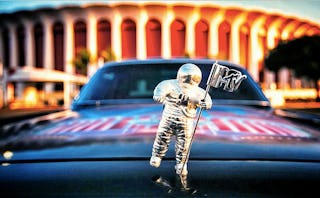 I want my MTV. And not today's teenage wasteland. Not Teen Wolf, Teen Mom—1, 2 or 3—or Tiara Girls.
No. I want my old music channel back, the one that introduced me to new artists and groundbreaking visuals and left the crap programming for other networks. And shared videos on screens larger than an iPhone. And hosted VJs named Martha, Mark, J.J., Nina and Alan.
In short, I miss the days of yore. When kids gathered around the boob tube to ooh and aah over A-ha's animated special effects. Today's equivalent is watching a nude Emily Ratajkowski writhe and jiggle in the practically porn shoot that is "Blurred Lines." (I know we sometimes got a little too familiar with the hairspray back in the 1980s, but—at the risk of sounding prudish—we never had to fully remove our clothes to up a video's audience numbers, did we? No, we did not.)
I remember when MTV first launched. I was in high school. All my friends were buzzing about it. And from the very first strains of "Video Killed the Radio Star," we, as a generation, were hooked. There was simply nothing cooler.
There are lessons to be learned about our class of kids—how we were then, and how we are now.
1. Gen X introduced MTV into the cultural lexicon.
From the moment we met the Moon Man, he belonged to us, a symbol of our collective consciousness. That's why, no matter how much MTV morphs into degenerative reality shows and interactive online content, it's our circus, it's our monkeys, and we'll never fully give either away.
2. We knew Chrissie Hynde was the queen of cool.
Between The Pretenders' "Brass in Pocket" and "Message of Love," both of which were among the first 30 videos played on MTV, we spotted and celebrated this raven-haired wonder who sings like an angel and dresses like a rock-and-roll front man. Precious, indeed.
3. We put the music first.
Would the nerdy-looking guys behind Devo's still awesomely provocative "Whip It" get the green light in 2015? I doubt it. Would Elvis Costello's "Everyday I Write the Book" stand a chance in the boy-band black hole that has thrived since the mid-1990s? Again, not likely.
4. We brought the world Madonna.
The world might be begging us to take her back now, but still. She showed every female pop star in her wake how to do it. Always "Borderline" and a bit too risqué, always breaking through boundaries. We worshipped at her shrine back then. Many of us still do.
5. We weren't afraid to express ourselves.
And, no, I'm not talking about Madge again. In the '80s and early '90s there was none of this cookie-cutter, perfectly coiffed tameness that rules the music industry today. We gothed it out with Robert Smith and The Cure. We fried our hair and Poison'ed it, too. We played with punk and we didn't have to be pretty. We waved our freak flags with pride. It's who we were, and who we remain.
6. We just wanted to have fun. (But we were damn serious about it.)
Cyndi Lauper can belt. No auto-tune for her bad self. She made us want to get up and dance, but we also adored the early indie appeal of alt-rockers The Replacements, who brooded with the best of them. And we were wild about the "Wild Thing." And who could resist the infectious California jams of The Red Hot Chili Peppers? It all put smiles on our faces.
7. We appreciated Steve Perry's pipes (without irony).
Long before the Glee fan club adopted Journey as its unofficial mascot, we slow-danced in shoulder-padded knit dresses with pimple-faced boys outfitted in Izod polo shirts and brown leather deck shoes. Because there we were, with "Open Arms."
8. We could live on a prayer.
Oh, Bon Jovi, you New Jersey kings of Aqua Net, stonewashed cool. There were other pretenders to your throne—Sebastian Bach—but it was you we wanted, dead or alive.
9. As Gen X faced young adulthood, we found Nirvana.
Kurt Cobain, in all his flannel-shirted brilliance, became a bastion for our shared slacker alienation. There was a recession brewing, as well as the first live video war gearing up in Iraq. Gen X felt swallowed whole by the Baby Boomers, who refused to grow up and move aside to make room for us. So if Cobain hadn't willingly appeared on the scene, we would've conjured him. But thankfully he did, just as we were leaving college and entering the workforce. And we still think the world owes us something for it. Because, honestly, has there been a single defining band as important as Nirvana since? Gen X is waiting, MTV.
This article was originally published on