9 Things About Reese Witherspoon's New Site That Make Me Miss the South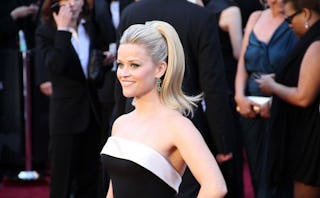 1. Structure. New Yorkers often seem startled by summer—it's a northeastern state; it shouldn't be this horrible in July, right? We wilt and burn, praying that this "heat wave" (uh, that lasts for all of July and August) will end soon. Southerners have no such illusions: They know the brutal velvet hammer is coming and are ready with cool but crisp clothes like this lace blouse, which is adorable and provides just the right amount of structure for someone who can't wear thin H&M cotton anymore. Also, lace skirts and lace shorts!
2. Everyday summer clothes with some detail. New Yorkers, scuttling along the sidewalks, hugging the buildings for the 16 inches of shade, love their droopy black cotton tanks and skirts. Draper James embraces the heat: The silk and grosgrain on this tank looks cool without being sloppy.
3. Unexpected summer materials, like a tweed mini-skirt. My clothing budget overwhelmingly goes to fall and winter clothes; like I said, I generally pretend that the summer will be brief and painless, which it never is. Why not stretch out, material-wise?
4. Tailoring, like this awesome belted dress that's already sold out. I'm tired of shapeless summer clothes that endure in the name of "effortlessness."
5. Rompers-that-are-not-rompers. Grown women in New York wear toddler clothes, a trend I just cannot support. But I love this flowered tank and shorts combo that looks easy and cool without infantilizing the wearer.
6. A cover-up that finally ends the tyranny of the shawl, like this lace cardigan.
7. Y'all. I have just one Southern friend in New York who hangs on to the y'all in the land of youse guys. Things like this bag emblazoned with "totes y'all" and a iPhone case that reads "hush y'all" keep the salutation alive.
8. Flowers. New Yorkers, with their winter-vampire wardrobes and their summer-vampire wardrobes, depress me. Draper James is reclaiming the floral print. Check it out here, on a belt, on these "Southern" greeting cards, and on a ton of blouses and dresses.
9. These paper coasters, which make me desperate for evening cocktails on the porch. Each set is stamped with a Southern saying, like "pleased as punch."
This article was originally published on