'I'm Hitting The Road': 90-Year-Old Chooses Road Trip Over Cancer Treatment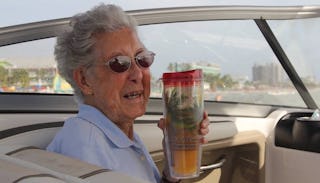 They say there's a difference between living and living well, and few people know that better than a 90-year-old Michigan woman named Norma who decided to forego cancer treatments so she could take the trip of a lifetime.
Norma's husband, Leo, passed away in July of 2015, and a mere two days later, she was diagnosed with uterine cancer. The doctor gave her a list of treatment options, but in contemplating her illness and her life going forward without her husband of 67 years, Norma decided to do something unexpected. She reportedly told her doctor, "I'm 90 years old; I'm hitting the road," and she took off on an epic, indefinite road trip with her retired son.
Her son, Tim, lives in an RV with his wife Ramie, and the trio travel all over the United States. They document their adventures on a Facebook page called Driving Miss Norma, where they've attracted over 140,000 fans. In roughly six months of traveling, they've visited beaches, lakes, museums, Disney World, the Grand Canyon, Yellowstone, and even gone on a hot air balloon ride.
In a retelling of Norma's story in her Facebook bio, Tim and his wife say they wondered at first if doctors would think them absurd for not encouraging Norma to seek treatment. Instead, the doctor gave them his enthusiastic endorsement:
"We explained to the well-meaning doctor and his student that we live in an RV and that we will be taking her wherever she wants to go. He didn't hesitate to say, 'RIGHT ON!' We asked if he thought us irresponsible for this approach. His reply was telling.
'As doctors,' he said, 'we see what cancer treatment looks like every day. ICU, nursing homes, awful side effects and honestly, there is no guarantee she will survive the initial surgery to remove the mass. You are doing exactly what I would want to do in this situation. Have a fantastic trip!'"
Currently, Norma is not in any pain and still loves the thrill of traveling all over the country. She tells the Good News Network her cancer symptoms have reduced, and she maintains her positive outlook through lots of prayer and by taking things one day at a time. "Just keep on going everyday," she says, "that's about it."
Norma says she's stunned by the response her story has gotten, but for most us, it's easy to see why people are in awe. Not only is Norma's son doing something incredible by taking his mom on this journey, but Norma herself is such an inspiring person. She lost her husband and was diagnosed with cancer all in the span of a few weeks, yet somehow she found it inside of herself to not only go on living, but to live the very best life possible. Her road trip is a testament to making the most of each and every moment, and a stunning reminder that we shouldn't take a single day for granted.
This article was originally published on