She Waited 90 Years To Vote For A Woman, And Died Happy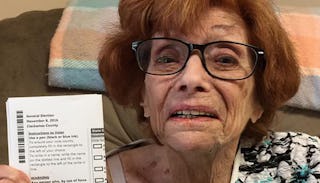 Image via Scott Harris
A 90-year-old woman voted for Hillary only days before dying and her story is going viral
In this tire fire of an election, there haven't been too many positive and uplifting moments hitting the news. It's literally tearing families apart, as so many of us can't understand the choice our loved ones are making. So, sit back and warm yourself in the glow of this wonderful tale of love and kindness.
Because it's what we all need right now, regardless of who we're voting for.
According to The Huffington Post, Scott Harris' 90-year-old mother Anita cast a mail-in ballot for Hillary Clinton and sadly, passed away a few days later. He shared her story with a secret Facebook group of "likeminded, pro-Hillary nasty women and bad hombres," where it received an outpouring of sympathy.
The photos caption reads, "My mom. Voting for HRC. She waited 90 years. She passed away last night. She'll be cheering from above Tuesday nite."
😢✌🏼️👼🏼
The post currently has over 2,500 comments from group members expressing their condolences for Anita, who had been in hospice for eight months prior to her passing. Harris says he never expected such a huge outpouring of support when sharing her story, but is grateful for it. "My brother and I are overwhelmed at all the responses to a simple picture. What is amazing is that human kindness still exists within this contentious election. It reminds me of people stopping and taking off a hat as a funeral procession passed by. Honoring a complete stranger. Just shows Love Trumps Hate."
Yes, it does. This election hasn't yielded many happy stories, so maybe that's why Anita's is being met with such enthusiasm. Whatever the reason, we're glad to hear it. With all the horrible noise caused by the sentient rotting turnip, people are forgetting how much meaning this election holds for many of us, for a number of reasons. Anita's joy as she holds her ballot is something everyone can appreciate, no matter how they cast their vote.
Harris later updated the group in a separate post to express his thanks.
"To everyone who has taken a moment to send condolences on my mom's passing after her vote: My family is intimately involved in the HRC campaign. We are spread out over the nation with family and friends. I cannot express how my family is overwhelmed by the responses. We are utterly shocked that you all have taken time to simply make a condolence. Mom was a "Roosevelt Dem" as she would say. And damn proud of it. You all have eased the broken hearts of a family and given mom the greatest gift of going viral with her simple statement. Thank you all. Onward and upward!"
Of his mom's likely reaction to her story spreading, Harris thinks she'd be pretty thrilled. "Frankly I can't think of a better sendoff for mom than going viral. She always was a bit of an attention-seeker. LOL." She also didn't want a funeral service with Harris explaining her final wishes. "She just wanted us to go eat great Chinese food so when we do we will toast her and HRC."
Hil yes.
[free_ebook]
This article was originally published on