There's Finally A '90210' Trailer -- And Yes, It Has The Old Theme Song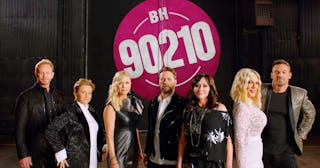 FOX via Youtube
The new '90210' trailer has most of the original cast and the most familiar TV theme song of all time
There's a brand-new teaser trailer for the upcoming (and hotly anticipated by us gals of a certain age) Beverly Hills, 90210 reboot. It's got most of the show's original stars — Shannen Doherty, Tori Spelling, and Brian Austin Green to name a few. It also has something we really didn't know how badly we needed until we heard it — a tease of the show's extremely iconic theme song. Needless to say, we are very revved for this.
Fox released the new trailer yesterday along with a reminder that this amazingness is coming to us on August 7. That sounds a long ways away, but at least we are getting these fun glimpses to tide us over until that blessed day. The trailer features Tori Spelling, Jason Priestley, Jennie Garth, Shannen Doherty, Brian Austin Green, Ian Ziering, and Gabrielle Carteris getting their days started — while hearing that familiar tune in a variety of ways.
Doherty is meditating, Garth is doing her hair, Spelling is making coffee, Green is picking out a tie — but every move they make causes that song to come out somehow. Then, Ziering starts up his car and the glorious music plays.
Hello 1992, we've missed you so freaking much.
The six-episode revival isn't exactly like the 90210 we obsessed over almost 30 years ago, which, how on EARTH was it almost 30 years ago? According to Fox, it follows the original cast as they play "heightened versions of themselves in a brand-new serialized drama — with a healthy dose of irreverence — that is inspired by their real lives and relationships." The show is sort of meta, following the stars over the six episode season as they try to get a reboot of the '90s mega hit off the ground.
"What will happen when first loves, old romances, friends and frenemies come back together, as this iconic cast – whom the whole world watched grow up together – attempts to continue from where they left off?" says the network.
Um, a whole lot of women in their 30s and 40s will be glued to their televisions with a number of snacks every week starting August 7th. That's what.
This most recent trailer isn't the first look we've gotten at what the reboot will be about. In this clip released last week, the whole gang gathers for their first table read of the pilot script. We're squealing very hard and it's only 30 seconds of adorable cast reunion goodness. Cannot wait for the real thing.
Our favorite 90210 girls have taken to Instagram in recent weeks to share their own nostalgic joy over the series getting the reboot treatment. Their excitement has us excited and it's pretty much the best.
Hell yes, look at those florals and chokers, anyone else feel a deep urge to hit up a Delia's store right now? Just us? Ok.
https://www.instagram.com/p/BwvCkiOgJoh/?utm_source=ig_embed
The fiercest high school students you will ever see — don't @ us.
While this entire venture has taken on a bittersweet tone after the tragic death of series star Luke Perry, it seems like this reboot is needed now more than ever to remember both him and the glory of the most beloved '90s teen drama. No doubt the cast will have Dylan McKay in mind as they recapture the glory of their groundbreaking TV run. Even though Perry's absence is felt, we're pumped to return to West Beverly with the rest of our favorites.
This article was originally published on