7 Kids Shows From The '90s That Were Revolutionary
by A. Rochaun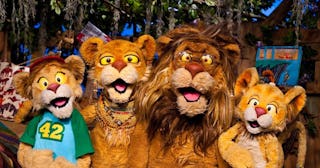 PBS
It would take a lot of work to convince me that I didn't grow up with access to some of the best shows in TV history. I was born in the early 90's and the lineup was revolutionary. It sounds dramatic, but I'm serious. The shows from my childhood that debuted in the late '90s and the early 2000s era of TV established a new norm. And I think it was a key contributor to why our generation has made it leagues farther in terms of authentic inclusivity.
The shows I watched as a kid taught me that the world outside of my neighborhood had a wide range of people. I proudly proclaim that we were the first group to have those examples in our lives. It meant that I had the chance to see examples of people who looked like me in the shows I watched. And while we have a long way to go in terms of reducing the mostly white (and straight, cis-gendered, able-bodied, etc.) protagonists in our shows, that representation meant the world to me.
It gave me a foundation that let me know I deserve to be seen and so does everyone else.
It's also worth noting that the shows didn't just have diversity of cast, they had diversity of content. We learned social skills and life lessons.
While this list is far from all-inclusive, each of the shows below are near and dear to my heart. Bonus: here are a few modern-day suggestions for shows that have a similar vibe.
Between the Lions might be one of my favorite shows on the list. It centered around a lion family of four who ran a library and all of the chaos that came along with it. There were several musical numbers per episode that focused on sounding out words, reading, and phonics foundations. For someone who wasn't paying attention, it was just a neutral show. But I knew it had an underlying Black aesthetic and low-key gospel twist. The Black culture references were in your face and I connected with it.
This show was so great I recently looked it up on YouTube so I could watch it from the beginning with my son.
Modern Option for learning phonics: SuperWhy
2. Maya and Miguel
The show focuses on twin siblings who were always getting into trouble in their local community. I was drawn to the bilingual nature of the show and I would watch glassy-eyed as they addressed cultural customs, terms, and dishes that I was familiar with. But Maya and Miguel offered so much more than cultural exposure — the show had plenty of universal life lessons.
Modern Option for bilingual kids shows: Nina
I wanted to be a veterinarian before I lost my cat in a tragic accident. I wanted to know about all animals and Zoboomafoo delivered that knowledge and offered a chance to learn about animals from all over the world. There were moments that were scary, like when spiders were involved — *shudders* — but the information was invaluable. It was also one of the first shows to let me know that some adults had "non-traditional" jobs.
Modern Option for animal education: Wild Kratts
4. Sesame Street
I don't have to spend too much time telling y'all about Sesame Street. Thankfully, it's still going strong several decades later. But now, as I watch my son grow up and learn from S2, it's impossible not to remember when I first saw the show as a child.
Modern Option: No need, It's still going strong!
"Come on and ZOOM. You know the tune. Come on and ZOOM — we're starting soon. Come on and ZOOM ZOOM ZOOMA ZOOM." I still remember the theme song of this awesome show.
Google says there were 200 episodes and seven seasons of Zoom but it didn't feel like it was around nearly that long when I look back on things. The kids on the cast were a wide range of colors. It introduced me to social and educational skits. On one episode alone, you were introduced to tons of STEAM-related topics. This show was definitely ahead of its time.
Modern Option: Sid the Science Kid
ATBOV taught me a ton of great messages that folks of all ages could benefit from. Most often, the show centered around moral conflicts. The two main characters were white, but what it lacked in racial diversity it made up with key life lessons. The only potential downside was that it was religious – specifically Christian-based. But despite growing up and being done with organized religion, I still enjoy the show.
The best part? It's still on TV from time to time.
Cyber Chase helped me understand math principles when tutoring missed the mark. And seeing a Black girl as one of the protagonists solving math in high-risk situations meant the world to me. The best part is this show still comes on PBS. Talk about nostalgia.
These shows from my childhood played a significant role in shaping who I am as a person. It means the world to know that several of these have been preserved and are still accessible now that I have a family.
This article was originally published on