20 Reasons Why The '90s Were The Best Decade To Grow Up In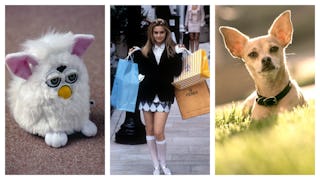 ullstein bild / Getty (left) Stringer / Getty (middle) Vern Evans Photo / Getty (right)
Any millennial will tell you that the 1990s were (arguably) THE BEST decade to grow up in. We '90s kids are very big into nostalgia, and it's pretty easy to see why. So many things from the '90s have had a great effect on pop culture and society as a whole. When our movies celebrate milestone anniversaries, they're re-released and sold out. Most of our TV shows are still in syndication, not having gone off the air ever.
'90s kids are old enough to remember the world before technology (we actually played outside), but we also know how to use smartphones (because how can you Instagram your avocado toast without a smartphone?). And those Hollywood A-listers like Brad Pitt, Leonardo DiCaprio, Will Smith, and Jay-Z? We remember them when they were youthz, making a name for themselves in TV, movies, and music.
And just in case you think the effects of the decade are long behind us, you need look no further than the fashion trends making their way down the runway. Blinged out hair clips? The '90s gave us that. Chokers? You can thank the '90s for that. Celine Dion???? Drop everything and thank the '90s gods for the ICON that is Celine!
The '90s were amazing beyond measure. Maybe every generation thinks the decade of their childhood was the best, but here's just a taste of what made the '90s the absolute best.
TGIF
No one wanted to go out on Friday nights in the '90s. We all wanted to stay home and watch ABC's TGIF (Thank God, It's Friday). The lineup of mostly family-driven sitcoms is still such a huge part of pop culture that Hulu recently added all of the shows to their streaming service. How would we ever make it to Saturday without knowing what kind of shenanigans Steve Urkel was getting into? Or have Michelle Tanner say "You got it, dude!" You can probably sing the theme song to Step by Step. And we all wished we could have a teacher like Mr. Feeny. Personally, I still fantasize about having powers like Sabrina, the Teenage Witch.
Nickelodeon
Everyone take a seat on the big orange couch, and beware of slime. Nickelodeon was the channel for kids (especially since back then the Disney Channel cost extra). We loved the animated shows like Rugrats, Hey Arnold, Doug, Ren and Stimpy, The Wild Thornberrys, and Ahh! Real Monsters. But then there were also shows like Hey Dude and Salute Your Shorts. And the game shows like Double Dare and Wild and Crazy Kids. You spent your Saturday nights watching All That and Are You Afraid of the Dark? And your summer afternoons with Stick Stickly (New York City, New York State, 10108!)
Tiny Toys
There is something about tiny toys that is just so '90s. Polly Pocket was everyone's favorite choking hazard because — hello! — you could actually put them in your pocket! And the Littlest Pet Shop animals might have had eyes that took up half of their tiny little bodies, but the kittens and birds and turtles were just so darn cute.
Sketch Comedy Shows
We all know that the '90s cast of Saturday Night Live was hands down one of the best because it spurred the careers of Adam Sandler, Chris Rock, Will Ferrell, Molly Shannon, and others. Mad TV was the Fox alternative, with much more ridiculous sketches and characters like Stuart and Miss Swan. In Living Color not only introduced us to the genius that is the Wayans family, but also launched the careers of Jamie Foxx and Jim Carrey. Best reasons to stay up late.
Girl Power Music
Whitney. Mariah. Celine. Alanis. Lauryn Hill. Jewel. Lisa Loeb. Tracy Chapman. Shania Twain. Dixie Chicks. TLC. Queen Latifah. Selena. Toni Braxton. Vanessa Williams. LeAnn Rimes. Faith Hill. These women were powerhouses. Top 10 hits, awards galore. And SO.MUCH.FEROCITY. Can we also remember that Cher staged an epic comeback and introduced us to autotune? Snaps, girlfriends.
Michael Jordan
Michael Jordan was the greatest basketball player of all time (sorry, LeBron). He had a hugely successful basketball career playing for the Chicago Bulls (No. 23 forever) then retired at the top of his game to play baseball. Luckily, he came back to the basketball court, wins more championships, and makes one of the best sports movies ever, Space Jam, when he saved the Looney Tunes from space aliens who stole the basketball talent of some of the best NBA players.
Teen Television
Hanging out with the crew at The Max on Saved by the Bell, singing on the beach with the California Dreams, watching the latest Wakefield sister drama at Sweet Valley High, trying to decide if you were Popular, swooning over Jordan Catalano alongside Angela Chase on My So-Called Life, and watching Dawson's Creek if only to fight with your friends about the merits of Dawson vs. Pacey. We were teens living the dream.
Pop Music
The resurgence of pure, 100% bubblegum pop of the late '90s is probably one of the most memorable (and has long-lasting effects) parts of our lives. Starting with the Spice Girls and their in-your-face girl power, then spreading to boy bands like Hanson, Backstreet Boys, and *NSYNC. The decade also ushered in blonde divas, like Britney Spears, Christina Aguilera, Jessica Simpson, and Mandy Moore.
Weird Beverages
Oh, man, '90s snacks and drinks were the bomb. First, there was Crystal Pepsi, the first clear, caffeine-free cola. Energy sodas were also introduced in the '90s. And what about Orbitz, that clear juice drink with the colored dots that were permanently suspended in the drink, making it look similar to a lava lamp — it was the epitome of weird.
Robin Williams Movies
Yes, Robin Williams had an incredible, decade-spanning career. But his '90s movies were many of the ones he's best known for. Mrs. Doubtfire, Jumanji, Hook, The Birdcage, and Good Will Hunting. 'Nuff said.
Sister Act
Whoopi Goldberg is a damn national treasure for several reasons, but her role in Sister Act is one of the most unforgettable. No one ever thought nuns were fun until they met the singing nuns from Sister Act, and the sequel Sister Act 2: Back in the Habit introduced us to the powerhouse that is Ms. Lauryn Hill.
Teen Movies
'90s teen movies were the shit. Fight me about it. Any decade that had Clueless automatically wins.
Pokémon
Gotta catch 'em all! Pokémon was all the rage, with kids collecting and trading cards faster than you can say Pikachu. They even got a full-length feature film in addition to their Saturday morning cartoon. Now that we're adults, we play Pokémon Go! on our smartphones instead. But we still can't catch 'em all. Sorry, Ash.
Titanic
Titanic wasn't just a ship, or a movie, it was a way of life. It was a record-holding blockbuster of a film that catapulted Leonardo DiCaprio and Kate Winslet into the stratosphere of fame. You're lying if you say you didn't have a crush on Leo for even just a nanosecond. How could you not? And this year is the 20th anniversary of the film (which they rereleased in theaters), so now we feel old. We'll never let go, Jack.
Disney's Renaissance
Technically, the Disney Renaissance began with The Little Mermaid in 1989, but '90s kids have claimed Ariel as ours. Though it may have started in '89, it really made an impact in the '90s. Beauty and the Beast was the first animated film to be nominated for a Best Picture Academy Award, and classics like Aladdin, The Lion King, Pocahontas, and Mulan are some of the best films, animated or not, ever.
If you're feeling nostalgic, Scary Mommy has rounded up some of the most memorable and instantly iconic Disney quotes to scratch that itch. And while you're going down this lane, enjoy some dirty Disney jokes that will destroy your childhood. Hey, we're all adults now.
Rap Music
Many rap music fans will say that rap really peaked in the '90s (I'm apt to agree.) The '90s gave us some of the biggest and best rappers. Biggie Smalls and Tupac were LEGENDARY, and they were often caught up in the East Coast/West Coast rap wars. The '90s also gave us Dr. Dre, Snoop Dogg, Lil' Kim, Foxy Brown, and Eminem.
Beauty Trends
'90s girls had to be one of the most catered to demographics when it came to products. We had it all: Caboodles for all of our Lip Smackers and Hard Candy nail polishes, GellyRoll and Milky Gel pens for writing notes to our crushes or giving our friends tattoos, belly chains to go with our crop tops. Butterfly clips were everything because you could put them so many places besides your hair (I frequently used mine to decorate the laces of my Sketchers.) And LISA FRANK. You can't get much girlier than rainbow-colored kittens and gumball machines.
Clever Marketing
Sure, the '80s had "Where's the Beef?" but we had "Wazzzzzup?" And you never wanted Taco Bell more than when you saw that cute little Chihuahua saying "Yo quiero Taco Bell."
Primetime TV
Primetime TV in the '90s was 2 Legit 2 Quit (see what I did there?). We had some of the biggest sitcoms of all time: Friends (even my preschooler can sing the theme song) and Seinfeld (yadda, yadda, yadda.) There were also soapy dramas produced by Aaron Spelling, Beverly Hills, 90210 and Melrose Place, and long-running dramas Law & Order (dun dun) and ER, without which many people wouldn't know the magic of George Clooney.
Magnificent Seven
In the summer of 1996, we all crowded around our TVs to watch the Summer Olympics, which took place in Atlanta, Georgia. Sure, a lot of things happened, but all many of us can remember was the women's gymnastics team, the Magnificent Seven. You know your heart stopped when Kerri Strug hurt her ankle on her first vault, only to nail the second one and drop to her knees in pain. We all cheered extra-hard when she stood on that gold medal podium during the National Anthem.
MTV
Yes, MTV was created in the '80s, but it really became a cultural zeitgeist in the '90s. MTV was one of the channels that made you jealous of your friends who had cable.
I know, there were so many things I left out. But the list would be an actual mile long if I included everything that made the '90s so ah-mazing. But we all know what made the '90s so special, so it's all good! Peace out!
Related: Rent This Lisa Frank-Themed Apartment And Make All Your Childhood Dreams Come True
This article was originally published on