93-Year-Old Bride Asks The Internet To Help Pick Her Wedding Dress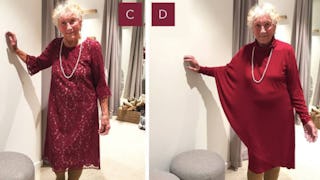 Image via Facebook
She needs help picking a dress and the internet's answering the call
Please forget any "most beautiful bride ever" claims you've either seen or read and understand that there can only be one — and it's Sylvia Martin. She has several dress options for her wedding later this summer and is asking the internet for help making a choice.
Lucky for her, the internet is only too happy to weigh in.
According to BuzzFeed, the 93-year-old Australian bride is set to marry 88-year-old Frank this July. The pair live in the same retirement village (the level of adorable is literally off-the-charts here, guys) and have known each other for over 20 years. The groom has asked for Martin's hand "many times" and finally, she said yes.
Now, she needs a dress.
The Birdsnest is the shop where a glowing Martin tried on four stunning looks, but couldn't decide on one, so they posted photos of the bride modeling her favorites to their Facebook page in hopes of the internet helping out.
The thread, now at over 7,000 comments, is one of the purest reads on the internet right now. We scrolled through hundreds and found not a single negative one, which is kind of huge for a Facebook comment thread of any kind. Which just goes to show how much everyone is loving this sweet couple and their story.
Oh, and gorgeous Sylvia, because hello, she looks perfect in all four of those brick red dresses. Girlfriend definitely knows her best color. And let's take a moment to appreciate not just the bride-to-be's radiance, but her posing skills. She looks damn good. And she knows it.
According to the shop's Facebook post, the reason Martin finally decided to tie the knot is precious. Out of respect for her deceased husband, she didn't want to take on a new last name, but recently found out she could keep her current name even after marrying again. Much to Frank's delight, we're sure.
It was after an illness that required her to move to be near family that Sylvia and Frank reunited a year later, with the future groom moving to Canberra, where she was living, to be with her.
If this story got any sweeter, we would have multiple toothaches.
If pressed, we're partial to dress C, the stunning lacy number, but Sylvia looks amazing in all four and should pick whatever one she loves the most. We wish her and Frank the most perfect wedding and the happiest of ever afters.