No I Don't Want A 1970's Christmas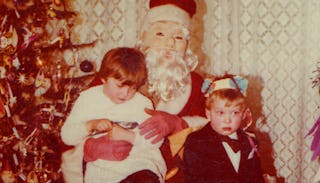 Image via Shutterstock
Remember the good old days of holidays past? You know the ones, when you were just a child of the seventies, free to roam the open plains and play without a single rule or limit? Obviously you were very well adjusted because your mother wasn't a helicopter (possibly only because the phrase didn't catch on for a few more decades) and your holidays were always merry and bright.
You didn't have to worry about things like gratitude trees or family community service projects because you were too busy soaking up every last bit of family fun while roasting chestnuts on an open fire, baking gingerbread cookies from scratch (which was really just called "baking" in those days), and singing Christmas songs with your favorite drunk uncle.
It was magic, wasn't it?
No? You don't remember those picturesque Norman Rockwell holiday moments? Me neither.
I loved my childhood. I really did. And I loved the holiday season. But this whole let's bring back the '70's campaign really needs to come to an end. I don't want a 1970's Christmas, thank you very much! While I do have endless happy memories of gingerbread cookies and opening gifts under the tree while my father took pictures with the strongest flash I've experienced to date, I don't think going back in time is really the answer. I think we the people have actually made some significant improvements over the years. In fact, I can prove it. Let's take a little look at some of the less nostalgic memories we might share from those glorious '70's holidays:
Pink pain inducing curlers:
Each Christmas Eve, my mom washed my perfectly straight hair and then spent the better part of an hour painstakingly rolling small sections of my wet hair into pink foam and plastic curlers while I barked at her in response. The curlers pulled my hair tight, setting off a cranky mood that would last most of the night as I tossed and turned, unable find a comfortable sleeping position.
Sound familiar? Good news if you were a fan of those "magic foam curlers", you can purchase them on eBay for just $1.84. For less than the price of a cup of coffee, you, too, can create curls in various sizes while forgoing sleep in the name of beauty.
Non-Ironic Matching Christmas sweaters:
There is a reason Saturday Night Live features at least one skit with holiday sweaters each year, and it's not because our hearts ache for reindeer and Christmas trees on our chests.
Year after year we wore our matching sweaters (some with patterns, some in bright colors) and lined up on the stairs for the infamous holiday shot. You know, the one that came naturally to the camera at the time? You might recognize it as the "1977" filter on Instagram. Ah, the good old days, indeed.
Plaid:
Not just any plaid, mind you. No, the plaid worn by families in the '70's was always made of wool. Scratchy, heavy, hot and sticky wool with no barrier (unless you were lucky enough to wear long underwear, that is). Those monkey bar shorts from Old Navy sure come in handy these days, don't they?
Missed opportunities:
There were no DVR's in the '70's. No VCR's. No DVD's. No YouTube. It's okay – take a deep breath. Today we have the technology to watch whatever we want whenever we want. But in the '70's, my friends, you had to read the paper to find out when Rudolph or Frosty would air, and then you had to sit in front of the TV and wait. No tinkle breaks. No do-overs. Be there or miss your favorite holiday show. End of story.
Overcooked unidentified veggies in heavy cream sauce:
Remember holiday meals before the Barefoot Contessa and Pinterest? When throwing a bunch of mixed frozen vegetables into a pan with heavy cream and something crunchy on top qualified as "green"? Oh, how I miss the overcooked mush. Or not. Because there's something to be said for roasted root vegetables with just a hint of olive oil and sea salt, after all. And that something is that I don't feel like vomiting after eating them.
Cigarettes and pumpkin pie don't mix:
Wasn't it great when people weren't so concerned about things like lung cancer and asthma? When lighting up a cigarette in the presence of small children was perfectly acceptable? Do you miss those days? Me neither.
I wasn't raised in a smoking house, but I spent my holidays with chain smoking relatives. The smell of smoke seeped into our pores and left us feeling stale. How my asthmatic sister even survived those fun-filled family gatherings is beyond me. Friends don't let friends smoke and eat pie, that's for sure.
Fruitcake was an actual dessert:
Need I say more?
I love my holiday memories. I love Grampa belting out a little Frank on the singing machine while I did my best to avoid taking the stage. I love endless stories told by my father while my mother corrected him at all the right moments. And I love poring through old pictures of my three siblings and me in nightgowns, one-piece pajamas, and magic foam curlers sitting by the fireplace right under our personalized stockings. But I also love today. I love smoke free holidays and pumpkin cheesecake. I love toasting marshmallows over the fire and listening to my husband play Christmas songs on his guitar. I love the feeling of the holiday season, no matter the decade.
Hold on to your past and share your memories with your children, but remember to live in the present. You just might be in the middle of your children's favorite decade, after all.
Related post: The 5 Worst Types Of Toys To Give Kids
This article was originally published on