The 'Bad Moms Christmas' NSFW Full Trailer Is Here!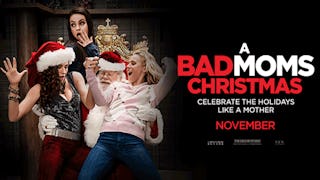 Image via A Bad Mom's Christmas
A Bad Moms Christmas is here to make your holiday season a lot funnier
If you were hoping for a fun Mom's Night Out activity to coincide with all the miserable holiday season tasks you'll soon be attending to, look no further. The NSFW full trailer for the new film A Bad Moms Christmas is here — and it's giving us hope for a happier holiday.
Looks like Amy, Kiki, and Carla have a lot worse things to grapple with this time around than unappreciative kids and husbands and an overbearing PTA president. There's few situations more stressful than a soul-sucking relative hanging around for the holidays — especially when that relative is your mom.
Like with the first film, the cast includes Mila Kunis, Kristen Bell, and Kathryn Hahn as the constantly busy and unappreciated moms, but the Christmas version includes three more moms — their own. Christine Baranski, Susan Sarandon, and Cheryl Hines round out the cast as the troublesome matriarchs the women are forced to deal with for the holiday season.
Naturally, hilarity ensues.
Life might be stressful for these characters, but the trailer proves it will only be a hilarious escape from real life for us. Although Kiki's toddler drinking water from the Christmas tree hits pretty close to home, we must admit.
If your interest still isn't piqued, know that the film features a naked (and extremely hot) Justin Hartley of This Is Us fame. Yes, please. More of that.
The movie hits theaters November 3, just in time to provide comic relief as the holiday season gets underway. Because this time of year, we'll take all the laughs (and alcohol) we can get.
This article was originally published on