The First Trailer For 'A Beautiful Day In The Neighborhood' Is Finally Here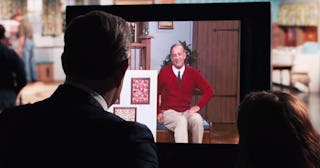 Sony Pictures Entertainment/Youtube
Tom Hanks IS Fred Rogers
We've been waiting for this day ever since Sony Pictures Entertainment announced to fans that they would be making a movie about the life and work of the one and only, Fred Rogers. Sony finally dropped the first full trailer for the drama A Beautiful Day in the Neighborhood today and once you watch it you'll know it was absolutely worth the wait.
Tom Hanks certainly has big loafers to fill stepping in to play Fred Rogers, the beloved TV personality, puppeteer, writer, producer, minister — and best known as the creator and star of the preschool TV series Mister Rogers' Neighborhood. It's clear though in this trailer that Hanks has Rogers perfectly nailed.
The film, loosely based on the 1998 Esquire article by journalist Tom Junod, is a tale of compassion, kindness, and peace. It stars a jaded magazine writer (played by Matthew Rhys) who's assigned to profile Rogers but doubts his sincerity is real. The two form an unlikely friendship over time and he overcomes his own doubts about Rogers and learns a whole lot about decency along the way.
"And so, once upon a time, Fred Rogers took off his jacket and put on a sweater his mother had made him, a cardigan with a zipper," Junod wrote. "Then he took off his shoes and put on a pair of navy-blue canvas boating sneakers. He did the same thing the next day, and then the next…until he had done the same things, those things, 865 times, at the beginning of 865 television programs, over a span of thirty-one years."
According to Entertainment Weekly, A Beautiful Day in the Neighborhood was shot in the original studio in Pittsburgh where Mister Rogers' Neighborhood was filmed. The crew was faithful in their execution, trying to get every last detail about the sets to match the original, even borrowing items from Rogers' original wardrobe.
"It only takes one person to inspire a world of kindness," Sony wrote next to the trailer's debut, and it's true. Kids (and parents) tuned in every day after school to watch the world Rogers created. It was filled with joy, empathy, and learning — and he had an uncanny way of making you feel like it was just you and him on the journey.
With all the horrible headlines it seems we wake up to every single day, this movie is exactly what we need right now. Rogers was a TV star but he was also a humanitarian, a secret friend to many sick kids, and an all-around decent human being — which sometimes feels really freaking hard to find.
The film hits theaters on November 22nd and it's clear by watching the trailer this movie will be one for the record books.