A Federal Judge Just Blocked Trump's Transgender Military Ban
by Christina Marfice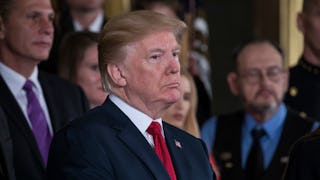 Image via Cheriss May/NurPhoto via Getty Images
Donald Trump is having one hell of a Monday
Hello, everyone, and welcome to Donald Trump's terrible, horrible, no good, very bad day. As members of Trump's inner circle are being indicted and arrested for their ties to Russia's meddling in the election, which on its own would make for a very Mondayish Monday for the president, we just got news that a judge has partially blocked Trump's ban on trans people serving in the military.
Trump announced the ban back in July in (what else?) a series of tweets. At the time, he wrote, "After consultation with my Generals and military experts, please be advised that the United States Government will not accept or allow transgender individuals to serve in any capacity in the U.S. Military. Our military must be focused on decisive and overwhelming victory and cannot be burdened with the tremendous medical costs and disruption that transgender in the military would entail. Thank you."
Even if you ignore Trump's offensive and incorrect use of "transgender" as a noun, this policy was clearly all kinds of bullshit. Trans people have proudly and successfully served in the military for years, just like any other people. You know, because they are just like any other people. Denying them their right to serve relegates them to a sub-human status, and in 20-fucking-17, that can't fly. Thankfully, U.S. District Judge Colleen Kollar-Kotelly agrees.
In her ruling, Kollar-Kotelly wrote that banning trans individuals from serving is a form of gender discrimination (duh) and that the ban, set to be implemented in March 2018, is already harming currently serving military personnel.
"There is absolutely no support for the claim that the ongoing service of transgender people would have any negative effect on the military at all," she wrote. "In fact, there is considerable evidence that it is the discharge and banning of such individuals that would have such effects."
While there's no word yet on whether the Trump administration will appeal Kollar-Kotelly's ruling, Twitter is already celebrating the good news.
Here's hoping this good news streak keeps up, because this is by far the best news day so far in the Dumpster fire that is 2017.