A Mighty Girl Proves It's Not Hard To Market Bad Ass Costumes To Girls
by Valerie Williams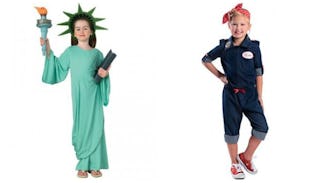 Image via A Mighty Girl
"A Mighty Girl" helps parents find empowering costumes for girls
The website "A Mighty Girl" is known as a place parents can turn to find books, clothing, toys, movies and music to help empower girls. For Halloween, the site has a page dedicated to guiding girls as they search for a Halloween costume that's both fun and inspiring.
While there's nothing wrong with overtly feminine characters and costumes meant to simply be pretty, there's something to be said for helping young girls aspire to more. While boys are offered a plethora of options geared toward exciting and powerful careers and characters, the choices for girls often leave much to be desired.
That's why it's amazing that A Mighty Girl has gathered so many fantastic options for girls in one place. Their page divides costumes for girls into categories including Superheroes, Book/TV/Movie, Occupations, Historical and more. The best part? There's not a "sexy" anything in sight.
And yes, sexy costumes for young girls are a thing, sadly. Those who have yet to select a costume for an elementary school age girl might not realize that so much of what's sold by retailers in their sizes is less than appropriate and more importantly, not even accurate.
For instance — what cop have any of us ever seen wearing a skirt? Yet, go to any party store and the cop costumes for little girls are dresses. Why does everything for girls have to be beautiful and twee? A female cop wears pants. So should a little girl dressing up as a cop. And that's why A Mighty Girl is pretty much doing the lord's work by gathering all of these great costumes in one place to help parents find something for their daughter that doesn't look like what a college girl would wear to a Halloween frat party.
And again, it's OK to wear skirts and be feminine when it's called for, but why not take our daughters seriously? If she wants to dress as a police officer or firefighter or Navy pilot, have her look like the real deal instead of a "girly" version. While we're at it, why not open her horizons to various historical figures and book characters? Our girls can be so much more than cute, and A Mighty Girl is an amazing tool to aide you in your search.
How about this Amelia Earhart costume for a little lesson in women in aviation?
Or this amazing Rosie the Riveter kid's costume for your budding feminist.
With the upcoming election, something patriotic might be fun.
Or you can tell her all about how there's no crying in baseball with this insanely cool Rockford Peach uniform.
If your daughter wants to be a twirly princess for Halloween, that's cool. If she insists her version of a police officer wears a skirt? Well, OK. But if she wants help picking a costume and asks you what you think, why not steer her toward exciting options that show her she's more than a pretty outfit? We tell our daughters they can be anything. Let's put our money where our mouth is.
[free_ebook]