Why This High School Senior Is Fighting The School Board Over A Rainbow Flag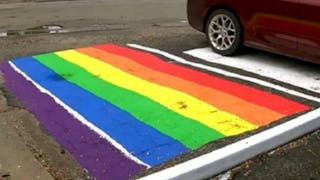 pinknews.co.uk
All over the county, an art revolution is taking place on our school campuses, and we are so here for it. Some high schools are taking things a step further toward fun and have this super cool thing where they allow high school seniors to paint their parking spaces, and the art is usually incredible.
There are many high schools in many states doing this, and for some of them, it has become a pretty welcome tradition, and one that the students, teachers, and the local communities look forward to every year. Who doesn't love to see kids flexing their creative muscles, right?
This school year, though, one high school in Kansas has ended their six year tradition. What brought on this unfortunate change of plans? A rainbow flag.
Marion High School in Kansas endured three months of controversy as they tried to decide what to do when one of their students, senior Logan Waner, used his parking space art to depict a giant rainbow flag.
"I mostly chose to paint the flag because it's simple enough and I'm a horrible artist. It described me well enough, so it just felt right."
Other student spaces contained paintings of Bible verses, American flags, some Trump-loving MAGA slogans, and other various random art.
But Logan's rainbow flag is the one that drew public ire and complaints. Complaints that sparked vandalism and protests, and ended with the school board voting 4-3 to end the tradition completely, so as not to have to deal with this issue like grown ups.
Logan implied in a Facebook post that his principal first asked him to change the design. The principal, Tod Gordon, denied this, and said the school had no specific guidelines for painting the spots other than they can't be "controversial," and further, he said he approved the design before it was painted. But in a later email, he clarified, "The school did not ask you to repaint your parking spot. I asked to have the parking [spot] repainted due to the concern in the community it has raised. In my 1st meeting I said anything that created a controversy could not be used for parking spots. The parking has to be very simple and no concerns to the community."
A local, Chuck Seifert, showed up the next day at a special school board meeting to complain to superintendent Aaron Homburg about the rainbow flag, calling it "graffiti on public property" and asserting that public school property was no place for "political messages." (I refer you back to the other designs, Chuck. Sit the fuck down. But alas, no one on the school board had the balls, apparently.) Not strange at all, Principal Gordon's retirement was also announced at this same meeting. Coincidence? Who can say.
Overnight, a petition was circulated and it garnered over 600 signatures in support of leaving Logan's art choice alone. Westboro Baptist Church organized a protest against this rainbow parking space, but more counter-protesters showed up than protesters. (YAY, kids!) Logan says that students and the community want the tradition back. "I've heard a few people talking about it, and they're not too happy with the decision," he said. "But I haven't been blamed for the decision. I think all the blame is going toward the school board."
As it should be. But what good is that blame doing if no change is made? It took them three months after one complaint to decide that the proper course of action was to shut down the whole damn thing rather than tell Chuck to fuck off or implementing some art guidelines against whatever it is they were so afraid of. During which time, the space was vandalized with black asphalt sealer to cover the image in what Logan's family describes as a hate crime. Principal Gordon, teachers, and other students helped Logan clean it up and even repaint it.
After the board's decision, Logan responded, "I really don't know what to say, but I guess congrats to the school board for taking away their students' freedom of expression and originality. I guess the board just wants students to turn on them and try to fight for what's right."
This article was originally published on