The Trailer From 'A Star Is Born' Is Here -- And Bradley Cooper Can Seriously Sing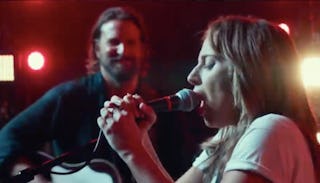 Image via Facebook/The Hollywood Reporter
Bradley Cooper and Lady Gaga star in "A Star Is Born"
The trailer for this October's hotly anticipated remake A Star Is Born just dropped, and it's pretty much stunning. Bradley Cooper and Lady Gaga star, and while we already knew Gaga had vocal chops, we had no idea Cooper could sing like this. Just one listen and you'll be getting chills.He's that good.
The film is the third remake of the story with previous versions coming out in 1937 and 1976. The '76 version starred Barbra Streisand and Kris Kristofferson. In the latest iteration, Gaga stars as Ally, a young singer moving to the big city to make a name for herself, and Cooper as Jackson Maine, the seasoned but self-destructive rock star on a path to ruin through drugs and alcohol. Of course, they fall in love and we sigh for all of eternity. Watch this trailer and try not to explode before the October release.
Take a minute to process the fact that Bradley Cooper has a golden voice he's apparently been hiding from us his entire life. Then, we can discuss the rest.
Rounding out the cast are Dave Chappelle, Sam Elliot, Andrew Dice Clay, Shangela, Halsey, and Willam from RuPaul's Drag Race. Along with taking on a lead role, Cooper took his first turn at directing. And the Oscar buzz is already pouring in.
Also? The songs were recorded live, which is both incredible and basically unheard of. Variety reports that it was Gaga who insisted it be that way. "What I can't stand in movies is when it's playback," she says.
Gaga took to Twitter herself to share her excitement about the project and props for Cooper.
For all of her gushing over Cooper, it's Gaga I'm thrilled to see. As someone who's had the privilege of seeing her in concert twice, I can vouch — she needs no mixing or autotune. Hell, she barely even needs a moment to breathe between live numbers and super complex costume changes. She legit blew me away with her raw talent and I can't wait to see her on the big screen. She deserves all the accolades pouring in and then some.