A Tick Bite Took My Husband's Life
by Crissy Naticchia for The Mighty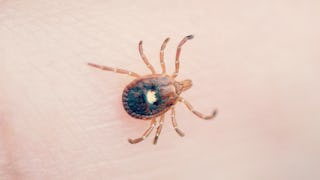 Joesboy / Getty
Here I am, sitting in a hotel room that my 50-year-old deceased husband bought with his Marriott points to take our daughter back to college. It has been almost a month since his sudden death, and being at his alma mater has really been difficult. Not only did he lead us with directions and reservations, but he led us with his infectious excitement towards the campus that he loved.
I am so lucky to have such an amazing family who not only accompanied me on this trip, but has been there for me and my kids in every way possible. However, it still does not diminish the feelings I have (and I am sure my children too) when we revisit the many places he talked about and shared with us.
My son, now a junior in high school, has no father to teach him how to drive, to talk to him about girls, to help him choose a college – nor to see him reach all of these milestones. My husband was all about his family – he did everything for us, unconditionally – which we took for granted like most people do. Now that he is not here, we feel lost and scared and alone.
The worst part of this whole story is the reason why he passed away. He was healthy and getting in shape with diet and exercise and then suddenly he developed a fever. I have known him 26 years and he had only been sick twice, so it was a big deal for him to run a fever. This fever continued for several days without any other symptoms so he went to urgent care. He had been having drenching sweats – so bad he would have to change his clothes and bed sheets. Urgent care tested his urine and diagnosed him with a "raging kidney infection" and prescribed him antibiotics. The fever and sweats went away but he still felt weak and not well.
Several days later, he came home from work and said he was tired and didn't feel well. He was asleep half an hour after coming home and woke up once to tell me he vomited.
The next day, he went to work and called to tell me he felt awful and was going to the emergency room.
Me and my daughter met him there and his skin and eyes were completely yellow (jaundiced). After running some tests, they admitted him. They continued even more tests with no diagnosis and while he was there his health was deteriorating.
Within 12 hours after being admitted, he went from joking and talking to being in ICU on a ventilator. And still no diagnosis. All of the tests were coming back negative and his liver and kidneys were shutting down. The doctor told me he was in septic shock and that it was most likely from drinking alcohol. After three days in the ICU, and his liver bilirubin rising, they transferred him to another hospital that specialized in liver malfunction.
The tests and questions started again while the doctors kept him stabilized. They set him up on dialysis and they awakened him periodically to make sure his brain was functioning. After two days in this hospital, he was showing signs of respiratory distress and his prognosis was poor.
Finally, that evening, a doctor came to me with a little hope – they had the diagnosis. He said his blood tested positive for Babesia – which is a tick-borne illness that quickly attacks the red blood cells. Because my husband was asplenic, it is a very serious infection. They quickly gave him the correct antibiotic and transfused his blood to replace the infected cells with clean ones.
The following day he was showing small signs of improvement. His blood pressure was stabilized and his breathing was improving. The doctor told me that although my husband was not out of the woods, he was optimistic.
I went home feeling good for the first time since we took him to the ER six days prior. My children were excited to visit the next day as we were sure he had turned the corner.
When the doctor called me at 4:30 a.m. telling me to come to the hospital, I was in complete shock. My parents, mother-in-law, and I raced to be by his bedside to see him. His blood pressure was dropping and his heart was giving in. Within two hours, I watched my handsome husband of 23 years pass away.
Obviously, when someone young dies, it is a tragedy. That goes without saying. But this tragedy was senseless. I lost the father of my children because he was bitten by a tick, and the infection that developed is not widely known. If the doctors were able to diagnose him one, two or four days earlier, might he have survived? We will never know.
My goal for writing this story is not to make people feel sorry for us, but to make more people aware of this parasitic infection. Especially people who no longer have their spleens or are somehow immune-compromised. If we had been educated, perhaps it might have made a difference.
Originally published on The Mighty.
This article was originally published on