A Trip To The Optometrist With My Son...And A Gunman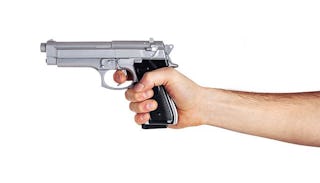 The receptionist sighed. I'm three hours early. Didn't I know my appointment had been changed? I glanced out the window and saw flashing lights—a lot of flashing lights. A cop opened the door to the office and said we couldn't leave due to an "ongoing incident." The receptionist shrugged and said that clears the schedule, and she's sure the eye doctor would be able to see me. I pondered the luck.
Now we are waiting. "What's a ne-go-tee-ah-tor?" my 9-year-old asks. He was reading it on the back of black vest outside the window. The negotiator's brown ponytail covers the "I." I locate the exit on the other side of the room, where the cops haven't poked in, and consider leaving. I look outside. There are cruisers and cops everywhere. Clearly, no one is leaving until the vests are off.
My son and I go to the waiting room. He's the only child there. The TV news is chattering about something a world away. Two elderly women talk about another church burning in South Carolina. They speculate why it hasn't been reported on more. They've yet to look outside. I sit away from the TV by a window and see a cop pull a high-powered rifle out of his trunk. Another officer loads a handgun inches from the pane. There are helmets, guns and pads of all sorts streaming out of a SWAT van.
My son brought a Far Side collection with him. He's seemingly immersed in the book, though I suspect his eyes lift toward the windows when I turn my back. He points out a comic about sheep with steel wool. I fake a giggle and ask him to move with me to the other side of the room, away from the windows.
Two men go out on the porch with their cell phones to take pictures. The cops tell them to get back inside. They reenter loudly laughing, like it's a party. I smile back. I get up with my son.
The showroom with eyeglass frames and advertisements for transition lenses is vacant. I try on glasses, tell my son I like the ones with a little bling at the temple and ask him his opinion about dozens of pairs. I put on one more pair. He says, "Those are the best," and laughs when I point out they are my own.
An officer without body armor walks past the window. It looks like the cop who helped us start our neighborhood watch when I was pregnant with my son. I figure as long as she's out there without a vest, without a helmet, things have calmed. But she moves away abruptly. Two cops in full armor sprint by the window, guns ready.
I move to another display on the other side of the room and hand my son a pair of Hello Kitty glasses to try on for kicks. He looks in the mirror, laughs at how big his head is now. I gulp at how small. I spin him around on the swivel chair. He asks what's going on. I tell him it's probably some guy who is threatening to hurt himself and the cops are trying to prevent it. I tell him about mental illness and guns here in the United States.
Why do I think it's a man? Someone's son? Educated guess. I pay attention. I read the news. I will find out later I'm right on both counts. I tell him we shouldn't worry, that it's all under control. I don't know if I'm lying.
I ask him about The Far Side, and he dives back into the book. I look around, at heavy objects and nooks. There's a staircase to my right by the waiting room and another more hidden to the left. There's a stainless steel sink with no room to tuck in beneath and a desk with a closed front and room below.
I text my husband about the SWAT team. I call him. No answer. I call again, and again. He picks up. I say we are okay. I think I'm telling the truth.
I've known my optometrist for 16 years. Our kids are roughly the same age. He greets me today as he has twice a year every year for a decade and a half. He asks my son what grade he'll be starting. We talk for a few minutes about the ambivalence of time, the paradox of change.
I survey the examination room: the equipment, the door, the space, what's movable, what's not. I didn't learn reconnaissance in school. But, my son has, ducking into closets for "intruder drills" and "active shooter alerts."
My eye doctor shines light in my eyes. I ask about blurred vision, dry ducts. He talks about the passing years, aging, suggests drops, tweaks the lens. Better or worse? It's hard to decide.
We walk back up to reception. I get my prescription, since I plan to go to Costco tomorrow where contacts are cheap. The receptionist's hands are shaking. I start talking about appointments, dilated eyes, colonoscopies, anything that might calm the shaking.
The front door swings open. The cop startles us. He blushes and asks to use the restroom. I mutter something like, "Sure, we have no need. We all just peed our pants." We kind of laugh. The cop scoots past.
Sarcastic thoughts flood my brain: How I wouldn't want a "carrying" patient in an eye doctor's office to pull a trigger in my defense, we being people with less than stellar vision. I think about how the cops using tear gas could keep this office busy all afternoon. I wonder, Too soon? I tell myself to stop doing that, to stop deflecting, to remain focused and stop throwing around words when I have no words. My son is quiet.
I go to the door and crack it open a bit. "Hey," I get the attention of an officer backed up to the porch rail. "Can I leave quickly with my son? Please?" I hold up my son's small hand squeezed in mine. "He's the only child in here." I point to my Honda CRV, the little gold thing right up past the barricades. He tells me to wait. An armored officer comes and tells me to bee line between the SWAT vehicle and police cars.
"Go, go, go…"
My son and I run. The cop is on my heels. My husband is up the road smiling, waving. I forget about the hurry.
"Go. Go. Get in your car. Drive. Drive. Drive…"
I remember where I am. A shot is fired out a second-story window at the cops. Remarkably, I don't hear it.
I drive up the street a few blocks. My husband hops in the car. I tell him we're okay. I don't want to talk. I drop him at his car a few streets away so he can go back to work. I drive home past a cannon at George Washington's Office Museum and another at the Stonewall Jackson's Headquarters Museum. Our street formed the entrance to a French and Indian War Fort. There are bullets in the soil, shrapnel under mulch.
I check the rearview once to make sure my son is there. His silence chills me. I ask if he buckled in. It's 85 degrees. I have goose bumps. We park in the alley behind our Victorian. The coneflowers that are supposed to be hip height are a cheery 5 ½-feet tall. There's a hummingbird drinking from a scarlet bloom of bee balm, Marshall's Delight.
"Well, that was another summer adventure."
It's a matter of fact, according to my son.
"I think I should be in school during the day. They keep us safe."
I know better. I pay attention. I read the news. I think about goddamn guns, dodged bullets, our sons, place, timing, space. The cops will negotiate for hours while my son and I eat baby carrots at home and inflate inner tubes to take to the pool. The cops will evacuate the office—the elderly, the eye doctors, the receptionists—and release several canisters of tear gas. The man, alone, will shoot and kill himself.
I hide behind cheap sunglasses. I say my dilated eyes are sore from the light, thinking my son might see the tears. I turn off the idling engine. I pull some weeds from the garden on my way to the back door. I wonder why I call this gunlandia home.
The dead bolt slides opens with a turn of my key. I hear my son's voice behind me, "Is there a hostage?"
There might be.
This article was originally published on