AAP Walks Back Support For In-Person Schooling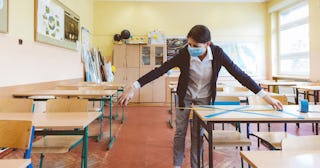 izusek/Getty
The American Academy of Pediatrics says 'science should drive decision-making on safely reopening schools'
The American Academy of Pediatrics (AAP) released a new statement yesterday on the contentious topic of reopening schools, explaining that while "children learn best when physically present in the classroom" and "returning to school is important for the healthy development and well-being of children," it's the public health agencies who must make recommendations "based on evidence, not politics."
"Science should drive decision-making on safely reopening schools," the statement — made jointly with the American Federation of Teachers (AFT), the National Education Association (NEA) and AASA, the School Superintendents Association — reads. "We should leave it to health experts to tell us when the time is best to open up school buildings, and listen to educators and administrators to shape how we do it."
The new release follows the Trump administration repeatedly using the AAP's previous statement — one that was published a mere two weeks ago, on June 26, and pushed for "having students physically" in classrooms — to justify their campaign to fully reopen schools in the fall, despite surging cases of COVID-19 across the nation. The AAP previously "strongly" advocated that "all policy considerations for the coming school year should start with a goal of having students physically present in school."
Now, after also being criticized for hardly addressing the safety of educators and school personnel, AAP is not only now calling for putting local school leaders, public health experts, educators and parents at the center of decisions about how and when to reopen schools, but the AAP is also putting more of an emphasis on maximizing the safety and well-being of teachers and staff.
"Reopening schools in a way that maximizes safety, learning, and the well-being of children, teachers, and staff will clearly require substantial new investments in our schools and campuses," they said, adding that schools must also take into account the spread of the virus in their respective communities.
"For instance, schools in areas with high levels of COVID-19 community spread should not be compelled to reopen against the judgment of local experts. A one-size-fits-all approach is not appropriate for return to school decisions," the statement reads.
According to Johns Hopkins University, the U.S. continues to lead the world in COVID-19 deaths, with 134,097 as of July 11. We also have the most confirmed cases, with 3,184,722. Brazil follows with with 1,800,827 confirmed cases and 70,398 deaths.
Information about COVID-19 is rapidly changing, and Scary Mommy is committed to providing the most recent data in our coverage. With news being updated so frequently, some of the information in this story may have changed after publication. For this reason, we are encouraging readers to use online resources from local public health departments, the Centers for Disease Control, and the World Health Organization to remain as informed as possible.
This article was originally published on