A Breaking Bad 'Sequel' Movie Is Coming To Netflix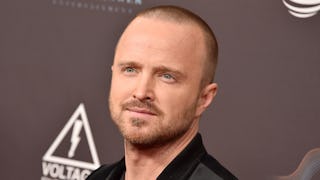 Image via Gregg DeGuire/Getty Images
Finally, we get to find out what happened to Jesse Pinkman after Breaking Bad ended
If you haven't watched Breaking Bad yet, #sorrynotsorry, there are some major five-year-old spoilers coming your way. As all fans of the show know, the ending of the beloved series was a liiiiittle bit ambiguous. Particularly in how it pertained to what happened to one Jesse Pinkman.
Jesse, played by Aaron Paul, was shown in one of the show's final scenes sobbing with joy as he drove away from the white supremacists who had imprisoned him for the last few episodes. Walter White, played by Bryan Cranston, helped orchestrate the escape and died in the process. Anyone who saw it surely remembers that it was tense and artistic and wonderful, but it didn't exactly wrap up the series with a nice little bow, you know? We need to know what Jesse made of his life after that moment.
Now it seems like we'll finally find out. Paul is going to star in the sequel film, which seems like a pretty dang good indication it's going to follow up with Jesse's life post-Walt. It will also be written by Vince Gilligan, who created the original series. That means we can expect it to be in the same heart-stoppingly tense style as all the episodes of Breaking Bad.
What isn't clear is who else will be reprising roles from the series. AMC found success after Breaking Bad with its prequel series, Better Call Saul, starring Bob Odenkirk as a young attorney on a path to represent the shadiest of criminals. But Odenkirk hasn't said a word about this project yet, so who knows if he's a part of Jesse's future story. And then there's the question of Cranston. Will he be involved in any way?
During a recent appearance on The Dan Patrick Show, he revealed he hasn't been asked to appear in the movie, but that he "absolutely" would.
"It's a great story and there are a lot of people who felt that they wanted to see some kind of completion to some of these storylines that were left open [in the series finale]," Cranston said. "This idea, from what I'm told, gets into those — at least a couple of the characters' show were not completed, as far as their journey. I don't know if there's an appearance — flashbacks, flash forwards — but I'm excited about it because it's Breaking Bad and it was the greatest professional period of my life and I can't wait to see all those people again, even if I just come by to visit."
That's about all that's known about the movie so far, except that it will premiere on Netflix, and then air on AMC, the network that originally aired Breaking Bad. Hopefully it gives us some actual answers, and not just more questions.
As for a release date? The movie is reportedly set to finish filming this month, but considering the post-production needs for a feature-length film, we're probably looking at sometime next year. We've already waited five years since the finale, and most of us probably gave up on learning Jesse's fate, so what's one more year?
This article was originally published on