Racist Lawyer Goes On Tirade In NYC Deli And The Internet IS NOT HAVING IT
by Jerriann Sullivan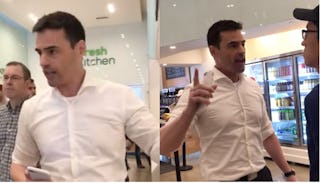 Image via Facebook/Edward Suazo
Aaron Schlossberg freaked out on workers who spoke to customers in Spanish
Manhattan lawyer Aaron Schlossberg flipped out on Tuesday when he overheard deli workers speaking in Spanish to customers. Schlossberg's racist rant was captured on camera and quickly spread online. Since then, more videos have surfaced that show the lawyer has been harassing people with his bigoted rants for years. Happily, there are also videos of him running from those calling him out for his repulsive views.
The jarring verbal assault happened at the Fresh Kitchen in midtown Manhattan when Schlossberg, 42, overheard employees speaking to other customers in Spanish and lost his mind. A woman captured at least part of his meltdown on video. "Your staff is speaking Spanish to customers when they should be speaking English," Schlossberg is seen saying to an employee of Fresh Kitchen.
When the worker tried to explain that the employees were speaking to regular customers (who speak English and Spanish), Schlossberg interrupted him. "Every person I listen to: He spoke it, he spoke it, she's speaking it," Schlossberg complains. He goes on to say "it's America" and "your staff should be speaking English, not Spanish."
Bystanders who were rightfully outraged at this bigot's freakout are heard on the video criticizing Schlossberg and calling him ignorant. When the store employee tries to speak to Schlossberg, he gets more enraged and threatens to call U.S. Immigration and Customs Enforcement (ICE) despite having no evidence that the employees or customers aren't legal residents of the country. "My guess is they are not documented. So my next call is to ICE to have each one of them kicked out of my country. If they have the balls to come here and live off of my money, I pay for their welfare; I pay for their ability to live here. The least they can do is speak English," he says. "If you intend on running a place in Midtown Manhattan your staff should be speaking English, not Spanish."
Edward Suazo posted the first video of the encounter on Facebook. His wife, Deena Suazo, was at the restaurant with her best friend, Emily Serrano, who captured when Schlossberg flipped out because the women spoke Spanish to the employees. The women are regulars while Schlossberg isn't, according to the manager. "It's disgusting to me, in this day and age, that people think it's OK to walk around and be disrespectful and racist," Deena Suazo told the Daily News. "The United States is made of all cultures and ethnicities. I speak Spanish and English. And I just might feel more comfortable ordering in Spanish."
What's even more terrifying than Schlossberg's xenophobic comments is the fact that he has a pattern of harassing strangers that he deems different. A video surfaced from 2016 that shows Schlossberg verbally assaulting a man he didn't know, Willie Morris, who captured part of the exchange on video and posted it to YouTube years ago.
Morris described the bizarre encounter: "He sees me, makes eye contact with me and makes a beeline towards me, holds up his briefcase in front of me and tries to shove me with it. Effectively he shoves himself backward and then he just starts cussing at me." The video shows Schlossberg ask Morris, "what country are you from?" and say, "I'm going to call the police. You don't run into me. I'm a citizen here; you're not. You're an ugly fucking foreigner. Fuck you." Morris was born in Massachusetts.
Schlossberg, who specializes in commercial and business law, is a registered Republican and contributed $500 to the Trump campaign, according to Open Secrets. Additional videos have surfaced that show Schlossberg screaming, yelling, cursing, and kicking at people who don't support Trump. It's only been a few days since the Fresh Kitchen video was released so it won't be surprising if more videos surface showing Schlossberg being a terrible person. Thankfully, Schlossberg's already feeling the repercussions for his bigoted actions. He was kicked out of his building and will be forced to move his law firm, and an official complaint was made to the state court disciplinary system.
"What was witnessed in the vile video from Mr. Schlossberg, which has since gone viral, is humiliating and insulting attack on the more than 50 years of progress that this nation has made since the civil rights movement," wrote Rep. Adriano Espaillat and Bronx Borough President Ruben Diaz Jr. in their complaint letter. "The audacity to profile and verbally assault innocent bystanders and customers in a public commercial location is a violation of our civil society."