Mom's 'Fed Is Best' Photo Shows There's No Wrong Way To Feed Your Baby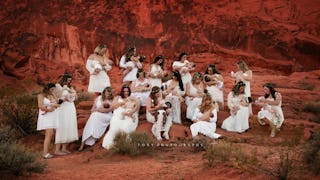 Image via Abbie Fox / Foxy Photography
Not being able to breastfeed led one artist to say "Fed is Best" through stunning photo project
There's a lot of debate raging about what's best for babies, especially when it comes to feeding them. But is all the discussion necessary? One photographer doesn't think so. She's simplified the issue down to one simple, beautiful message: "Fed is Best."
Photographer Abbie Fox struggled to nurse her own babies, and that's what inspired her to start spreading her message. A year ago, she created a similar image showing moms feeding their babies in all kinds of ways, and the experience was so powerful, she decided to do it again this year.
And the results are breathtaking.
"Last year I did a project that was near and dear to my heart and it was such a hit I decided to do it again this year," Fox wrote. "I had many issues while trying to nurse my babies with a lot of other moms judging me and making me feel bad for something I couldn't physically do. There were always gorgeous breastfeeding photos but I noticed one main thing missing, the other moms who weren't able to nurse. So the concept for the shoot was Fed is Best."
She got just as good of a turnout for last year's version.
Fox says, "While yes breastmilk is the healthiest option for baby most of the time, I'm not denying that, sometimes women cannot do it. Whether baby won't latch, mom can't produce milk, or a variety of other reasons, we as moms should support one another and not make each other feel bad for us just trying to keep these little humans alive. That is what the concept Fed is Best is all about."
Fox makes some strong points. At the end of the day, breastfeeding isn't an option for every mom or every baby. What really matters is getting food and nutrition into them to help their bodies and brains grown. No mom deserves to be shamed for doing whatever is best for her family, regardless of the method she chooses.