Abercrombie Kids Launches Awesome New Gender Neutral Clothing Collection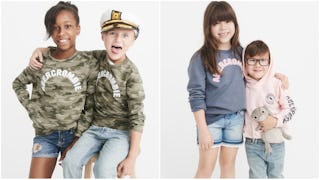 Images via abercrombie kids
Abercrombie's "Everybody Collection" features clothing and accessories for all kids
Inspired by feedback from customers saying they didn't want to be restricted to clothing styles based on gender, Abercrombie Kids recently launched the Everybody Collection — over twenty trendy clothing and accessory items designed for anyone to wear.
"We put our customer at the center of everything we do and are constantly listening to their feedback to provide the right product and brand experience," said Stacia Andersen, Brand President of Abercrombie & Fitch and Abercrombie Kids in a press release. "Parents and their kids don't want to be confined to specific colors and styles, depending on whether shopping for a boy or a girl. Our Everybody Collection is one assortment, in one size run, that covers the trends we are seeing in both color and style."
Collection items range in price from $20 for t-shirts and hats to $70 for a slick bomber jacker that I wish came in adult sizes.
This classic pullover ($30) would look good on literally anyone.
The clothes are adorable of course, but what we're loving even more than the designs is how much thought went into the collection. Rather than make a "boys" version and a "girls" version of each item, there's a single sizing system for sizes 5/6 through 15/16. Even more awesome is the fact that the collection will be placed in the center of every store. This way kids can feel free to gravitate towards the clothing styles and colors that appeal to them without any fears of shopping in the "wrong" section.
My own five-year-old son loves to wear red and pink and used to beg me to take him shopping for new clothes. But thanks to a couple older kids at school calling out his Shopkins shirt as "girly" and the fact that he can now read the words "girl's department" and sees that's where all the clothes he wants to wear are, lately he's been struggling to find outfits he's comfortable in. Beyond the fact that our morning routine is a mess, it breaks my heart to see him insecure and unhappy. Fashion should be fun, especially for little kids. This new collection gets that. Hopefully gender neutral clothing for kids will start to be the norm in stores, rather than the exception.
Because who wouldn't love a pair of silver slides ($25)?
This hoodie ($40) could be an hand me down for a little brother or sister.
This is what progress looks like. Other retailers, please take note.
This article was originally published on